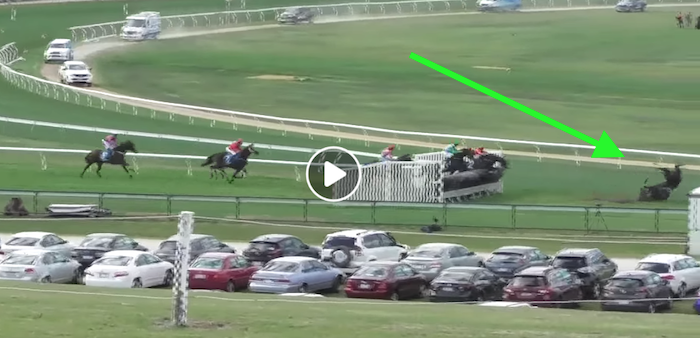 Carol Altmann – The Terrier
With the death of yet another racehorse from the Warrnambool May Racing Carnival, how on earth is jumps racing still considered okay?
How does Warrnambool, as a city, continue to look away as if racehorses being killed is an unavoidable by-product of pumping money into our local economy?
It was revealed today that Blues Breaker, trained by local Symon Wilde, was killed after a truly hideous, full-roll somersault last Wednesday, and it serves as an ugly reminder that we accept horses can and will die in the name of a "sport" that hides its cruelty under hired suits, fascinators, champagne and finger food.
At the same time, our Mayor Tony Herbert bangs on about Warrnambool being "sophisticated" and "cosmopolitan" – well, jumps racing ain't either of those, Mr Herbert, it is barbaric.
It is unquestionably brutal and the money generated for Warrnambool by this "sport" is once again smeared with blood.
For the record, Blues Breaker is the fourth horse to die at the Warrnambool May Racing Carnival since 2016 and there have been more than 50 horses die from jumps racing in Victoria in the past 10 years.
Unfortunately we have become deaf to the statistics that, in any other sport, would cause an outcry, such as the results of a 15-year-long study by the University of Melbourne which shows horses are 18 more times likely to die in jumps racing than flat racing and 121 more times likely to suffer a head, back or neck injury.
Read those numbers again and imagine, for a moment, if they applied to AFL or cycling or soccer.

While Blues Breaker has been euthanised, there are numerous other racehorses still recovering from their outing in Warrnambool last week.
You won't hear or read about them, but you can read through the racing stewards' reports compiled from across the three days of the May Racing Carnival to see the string of horses that stumbled, failed to finish, "knuckled upon landing", jumped awkwardly, pulled up sore, ran out of breath, were whipped too many times, or bled from the nose after racing.
Despite all this, our city leaders wander around the racecourse, all hats and smiles, as if wearing their own personal set of blinkers: nothing to see here folks! Let's all have fun!
It is dishonest and it is dirty, but because it brings in the big dollars, we are encouraged to stay mute and suck it up.
Indeed if you do speak up, you are accused of being a killjoy, or a rabid animal activist who lives in a sweaty little teepee, or ill-informed because, hey, don't you know racehorses love to jump numerous hurdles for long distances while having their arses beaten with a whip? What's wrong with you, killjoy?
If there is one rock solid argument as to why jumps racing must be maintained in Victoria, I am yet to hear it.
In the meantime, what we do hear is about the millions of taxpayer dollars being poured into the Warrnambool Racing Club and the Warrnambool Racecourse.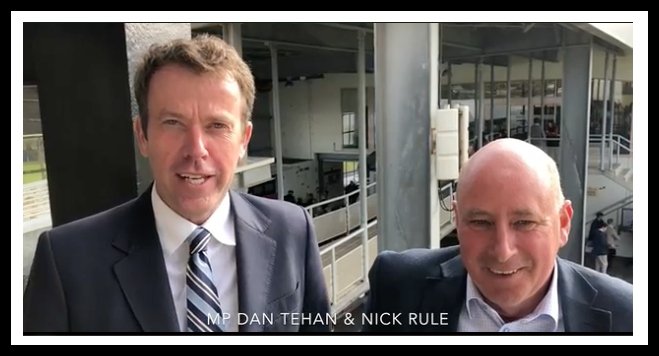 Racehorse owner and Federal Member for Wannon Dan Tehan, who shares a racehorse with the chairman of the Warrnambool Racing Club, Nick Rule, announced $1.25 million of public money would be put toward revamping the grandstand.
The State Government will throw in another cool $300,000 and the remaining $3.4 million for the project will come from the Warrnambool Racing Club which, according to Mr Herbert, has been struggling, cash-strapped, and virtually down-on-its-knees.
Former Premier Denis Napthine, another racehorse owner and now a racing commentator on 3YB, would like to see the State Government offer more prize money because, hey, that has to be a priority for us hardworking taxpayers, doesn't it?
And we know that millions have already been spent improving training facilities at the racecourse with sand tracks and swimming pools and better drainage, yet the industry still wants to run around our wild beaches.
Enough.
Warrnambool is moving toward being a different city to what it was 20 or 30 years ago. We have a Greens' member on council and a rainbow flag outside the council chambers – both unthinkable just a decade ago.
Our demographic is changing and we are all moving on from the days of treating the natural and animal world as if it is ours to exploit. Heavens, we even had the Swedes here recently telling us how to capture hydrogen fuel to power our cars.
This is the Warrnambool I am a proud to be a part of and so many people want to be a part of. Jumps racing – surely – no longer fits that future.
Would you like to support The Terrier? Please consider throwing something in the tip jar.