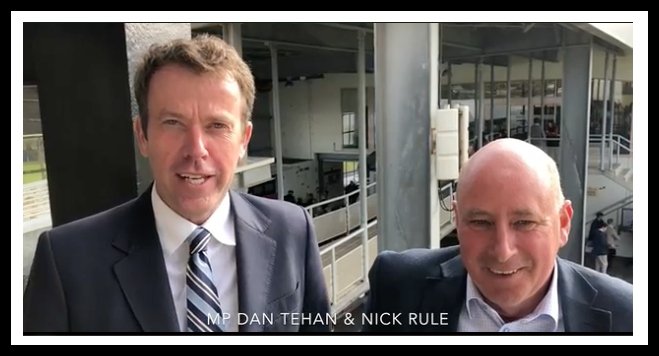 I have tried at least five times to stop writing about local issues so that I can focus on books that I need to write, but each time I try, some frustrated soul contacts me with a story idea or a piece of information that they know will not be investigated or published elsewhere.

So here we go.

Story number one: Dan Tehan's friends in racing.
A week or so ago, Wannon MP Dan Tehan braved the chill winds at the Warrnambool racecourse to announce a sweet $1.25 million in funds to the Warrnambool Racing Club so it could transform, among other things, its already "first-class" eating and drinking venue into a "world-class" venue.
That little slice of pumped up Trump-speak was from WRC chairman Nick Rule, who told the local paper back in January that: "The club has the support from the Member for Wannon Dan Tehan for the project" aka, he is right behind us on this one.
Dan is a big fan of racing, but more than that, he owns shares in racehorses and, in particular, he owns shares in a racehorse – called Wells – with Nick Rule and others.
That's right: our local Federal MP shares a horse with the chairman of the WRC and lobbies on behalf of the WRC for public money.
What I don't understand is why this connection is never mentioned in any media reports?
And why doesn't Dan Tehan ever mention it in any of his public remarks and Facebook posts?
And why, if it is no big deal, does his staff refuse to answer a simple "yes" when asked if Dan and Nick co-own a racehorse?
It was the same story a few years ago when Dan Tehan and then Premier Denis Napthine part-owned a racehorse (Spin the Bottle) with Midfield Meats owner and multi-millionaire Colin McKenna who, at the time, was seeking state money to expand his operations in Warrnambool. (He got the money and Denis got a political headache.)
And it is the same story, as I have written about before, every time local MP James Purcell, racehorse owner and father-of-trainer-Aaron Purcell, opens his mouth about anything to do with horse racing and allowing large numbers of racehorses to train on beaches.
Let me shout it out:
THESE MPS OWN RACEHORSES!
Dan Tehan and James Purcell are not alone. State ministers Lily D'Ambrosio and Martin Pakula, who are among those deciding whether commercial racehorse training should be allowed on our local beaches, have been the recipients of a free annual pass or a VIP pass to Racing Victoria.
Ah, the lure of a ringside seat at the Melbourne Cup.
I am not sure when we started to accept such potential conflicts of interest as normal.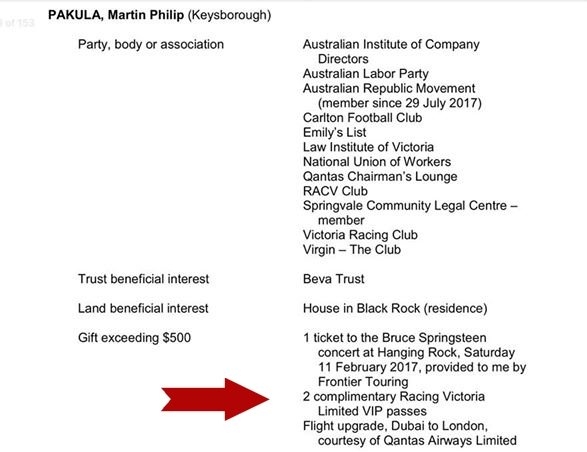 It is difficult to think of another example where an MP would be permitted to be actively involved in any lobbying or decision making when they held such interests but, for some reason, horse racing remains exempt.
I hasten to add, before the lawyers start dictating letters, that there is no suggestion of any impropriety by any of these MPs: they are doing what we allow them to do.
If this is to change, we need to keep calling it out and to keep shining the light into the dim corners, sometimes several times over.
And that is story number one.