Carol Altmann – The Terrier
In the past two years, Lyndoch Living spent more on lawyers, consultants and accountants than it did on food for residents.
In 2018 and 2019, Lyndoch shelled out an astonishing $2.318 million on accountants, lawyers and consultants, while it spent $2.194 million on food supplies.
In 2018, the gap between the two was especially stark, with less than $1 million spent on food supplies – $994,068 – compared with $1.238 million on accountants, lawyers and consultants.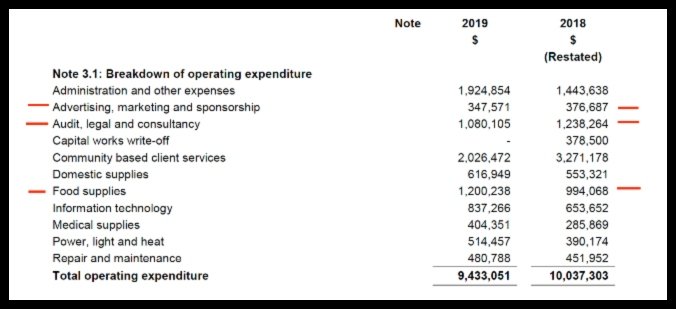 Chew on that for a moment and I suspect you will feel the same sense of indigestion that came over me.
These unpalatable facts are among the many that fall out when you take a close look at Lyndoch's financial statements – and a lot of terriers are now taking a good, hard look at the figures, both old and new.
This is how we know that in 2013 the food bill was $992,516, which is not that far off the $994,068 that was spent five years' later.
Did I miss something? Has the cost of groceries gone down?

I can tell you that what residents pay to live in a nursing home has certainly not gone down nor stayed the same for the past five years.

If you are going to cut costs, surely as an aged care home you don't start with the food bill?
Judging by the 2019 financials, there is plenty of fat to trim elsewhere, starting with administration costs and the ever-growing number of staff  in the corporate area (59 and counting).
Not surprisingly, the cost of food vs lawyers/consultants/auditors was not mentioned at the Lyndoch Living annual general meeting last October and we can only make the comparison now because of two things:
The full figures have finally been released via the Australian Charities and Not-for-Profits Commission, and, for the first time, legal fees and consultants' fees have been published in the audited statements.
Speaking of auditors, wow, has that bill shot through the roof.
Last year, Lyndoch's auditing costs tripled from $13,950 in 2018 to $48,500 in 2019, which is five times what Lyndoch paid for auditing in 2013 ($9800).
Lyndoch changed auditors from local firm McLaren Hunt (which used to be Coffey Hunt) and replaced them with RSM Australia.
Perhaps a stack more number crunching needed to be done because Lyndoch decided to become a company limited by guarantee, buy two medical centres and also the May Noonan nursing home in Terang (I will write more about the medical centres soon).
But even the auditors were paid small beans compared with the $2.25 million spent on lawyers and consultants in the past two years.

$2.25 million.

Oh my goodness, I really am in the wrong business.
This $2.25 million would include hiring consultants for the $100 million masterplan and to write the (secret) business plan for the new medical centre that Lyndoch intends to start building soon, even though it's still not sure how much money it needs to borrow to pay for it.
The lawyers, I assume, would also have been hired to guide the masterplan, to set up Lyndoch Healthcare Pty Ltd, and to oversee how Lyndoch now operates as a company limited by guarantee.

There are also the less obvious fees, such as the solicitor "retained" to provide advice to the company secretary, who doesn't have legal or accounting qualifications.
All of this – millions of dollars in consulting, legal, accounting and administration bills – is such a long, long way from where Lyndoch started as a much-loved, community owned facility for our aged to see out their final years in comfort.
Back in the beginning, people donated their time and their own money to make sure Lyndoch found its feet and this is why there remains such a strong, emotional connection between Warrnambool and our iconic aged care home.
The board needs to get that.
Lyndoch has to grow and keep up with the times, we all get that, but how it is growing – and at what cost – remains at the heart of this investigation and we will keep going.
More soon.
If you would like to see The Terrier keep digging, click on the link below to throw something in the tip jar.