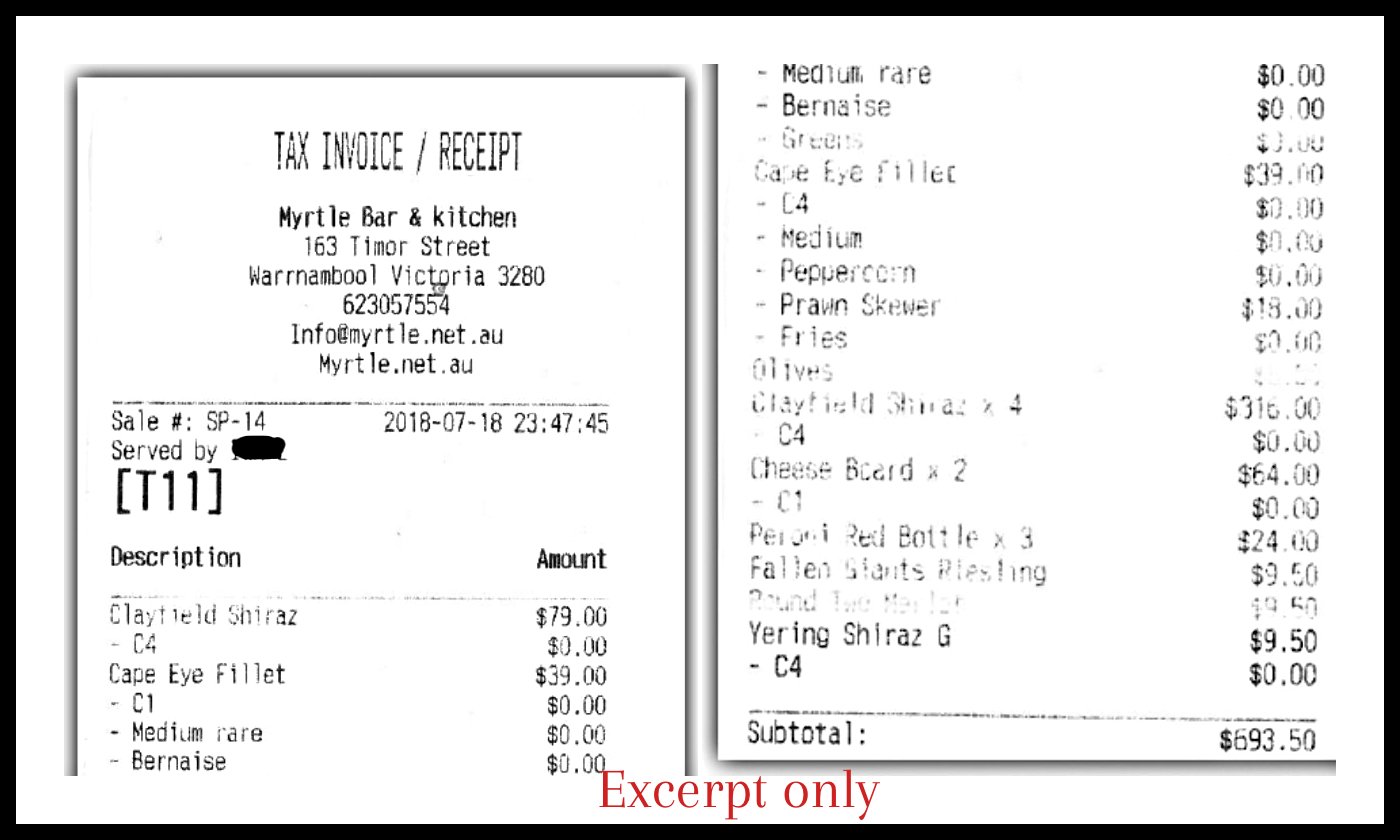 Carol Altmann – The Terrier
Here is a story of two lavish Warrnambool dinners, held two months apart, costing more than $2000 and paid for via another Warrnambool City Council corporate credit card.
"It's just one credit card," Mayor Tony Herbert keeps repeating, "just one".
No, not one. Not two. Now three, and it's not over yet.
I have to keep rolling these out, because two months' after the first bombshell hit, the WCC still refuses to accept it has a deep-seated culture of entitlement and secrecy that has seen questionable spending of public money for years (#notallstaff).
This time it's a dinner at the Myrtle Bar and Kitchen last July for perhaps three or four people, including a current councillor, who between them spent almost $700 on servings of eye fillet, five bottles of shiraz (@$79 each) and more wine by the glass before things wrapped up a few minutes before midnight.
The guests, I am guessing, must have had a decent old hangover the next day.
But wait, there's more. There always is.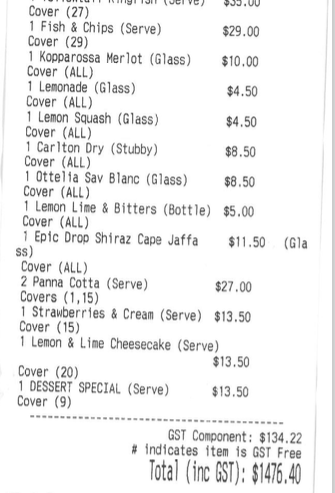 Another dinner, costing an eye-watering $1476, but for more people – maybe 10 – was held at Pippies By the Bay restaurant in late May last year and included dishes of eye fillet with crayfish tail, abalone entrees, yellowtail kingfish, duck breast, fresh oysters and desserts.
The food was washed down with five bottles of wine and six glasses of champagne, with several more wines bought by the glass before everyone piled out the door and into the night.
Both of these dinners were paid for by a senior council manager using a WCC credit card and were held less than two months apart.
I don't know what these dinners were for and perhaps they were of enormous benefit to Warrnambool, so on Monday I asked the senior manager and the councillor three simple questions:
i) the purpose of each dinner?
ii) the demonstrable outcome for Warrnambool as a result of each dinner?
iii) who signed off on the cost of each dinner?
I still don't know the answers to those questions, but you can read the response today from the WCC media adviser in full here.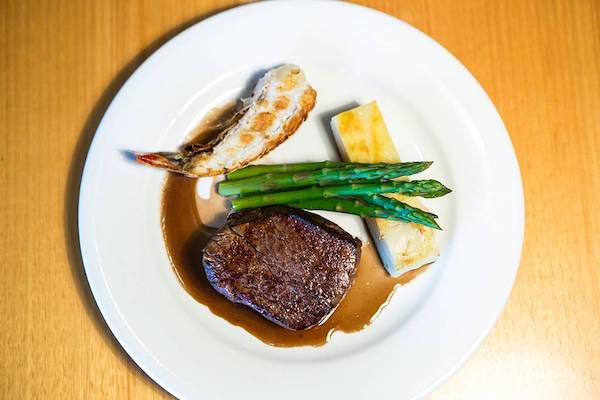 I don't want to incite a riot and this is a truth I hoped I wouldn't have to expose, because I trusted the council would be in full blown action mode by now, but it just doesn't get it.
All the council hopes to do is tweak a few internal policies and pray the whole thing goes away: it won't.
Because this is not about catching people breaking the law – which is what Cr Herbert fails to grasp – but exposing the steaming pile of inappropriate and unjustifiable spending that gives so little return to the ratepayer.
It's this unjustifiable spending – via poor governance – that people want independently audited, cleaned up and cleaned out.
There was the perfect chance for the Mayor, CEO Peter Schneider and the councillors to stand before the public at at last Thursday's emergency meeting and say we are so sorry for allowing your money to be wasted. We are on to it. We are taking it very seriously and we are doing all we can to flush it right out.
Instead, they all – bar one in Cr Hulin – behaved like kids dragged before the headmaster, twitchy and testy, as if they didn't want to be there, because they didn't.
Local MP Roma Britnell recently confirmed to a resident that both she and the Local Government Minister were poised to intervene: "The opportunity was provided to the city council, by both myself and the Minister, to conduct an independent review, they have chosen a certain way to proceed," she wrote.
So the council was dragged kicking and screaming to the table and it showed.
Cr Herbert stuck to his mantra. Cr Anderson sat there and said nothing. Cr Neoh – briefly – lost his temper, while Cr Gaston stood up and announced she was "very confident" all was well.
No, Cr Gaston, all is not well.
Let's not forget that this council first talked about breaking the rate cap in 2017, yet throughout 2018, the unbridled spending on food, drinks and alcohol rolled on.
Nothing changed.
And because nothing changed, we are now picking up the bill through higher rates.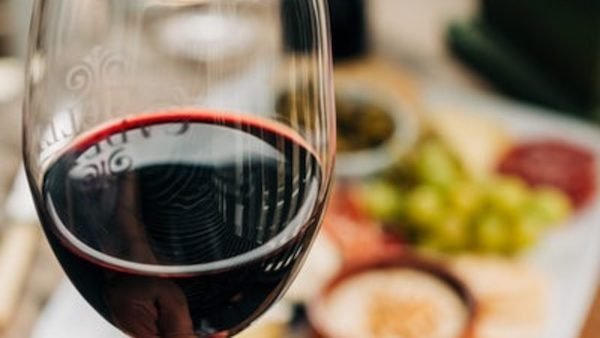 It is outrageous and yet we know it is just one part of a much bigger picture where so much waste was and is allowed to happen.
There was nothing illegal about a senior manager buying a shed for $100,000 and the council selling it for $2000. There was nothing illegal about throwing $3 million of taxpayers' money into Flagstaff Hill and it now costing ratepayers $750,000 a year to prop up. There is nothing illegal about building an unnecessary roundabout outside the Warrnambool Bowls' Club where Cr Anderson is a member.
And there was nothing illegal about council staff spending hundreds of dollars on food and wine, because it was happening in plain sight and approved by those in charge.
I have now reported on three council credit card holders who have indulged in questionable spending, and there are more (#notallstaff).
If our councillors don't know about all of this by now, then our CEO is not doing his job for his $320,000-a-year package.
I know Mr Schneider is a busy man, but he did find time to email me last week, not with any answers or insights, but asking me to refrain from naming council staff.
As a journalist, I never publish a name without it being relevant, but I will wait and see – in this case – if the senior manager and councillor involved will step out and name themselves.
In the meantime, those of us outside the tent will continue to dive deep, down to the very bottom of this culture of entitlement and waste, and use every muscle we can to turn it around.
We still have some way to go.
If you would like to be part of The Terrier, you can throw something into the tip jar below.