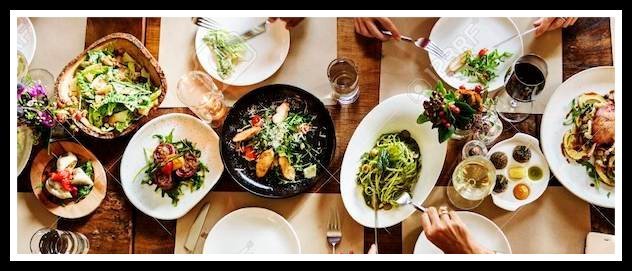 Carol Altmann – The Terrier
Just a week after the Warrnambool City Council voted to increase rates by 4.5%, I can reveal that ratepayers have footed the bill for thousands of dollars spent on dozens of dinners, lunches and breakfasts racked up on just one corporate credit card, by one council manager.
Freedom of Information documents show the council signed off on at least $6800 in meals, including dishes of eye fillet, seafood linguine, pork belly, softshell crab and tapas plates, paid for with a corporate credit card used by WCC Manager Visitor Economy David McMahon.
This credit card recorded more than $40,000 in spending for the 18 months from February 2017 to the end of October last year, which is when I lodged the FOI. The FOI finally came through in early June.
It shows the corporate credit card was used to cover food and drinks at meetings, gatherings, get-togethers and other social occasions that occurred with eye-popping regularity.
The local venues for these outings have been many and varied and include the Hotel Warrnambool, Graze, Hairy Goat, Fishtales, The Pavilion, Bojangles, Simon's Waterfront, Mid-City Motel and the Main Beach Kiosk, with the bill often costing more than $150 at a time.
To be clear, Mr McMahon, who is based at Flagstaff Hill, was not spending this money only on himself.
The total credit card bill of more than $40,000 covers a broad range of expenses, from $20 car washes, to groceries bought at service stations, to hardware, a $470 helicopter ride as a competition prize, $434 to hire a function room at the Lady Bay Resort, right up to thousands spent on accommodation and travel.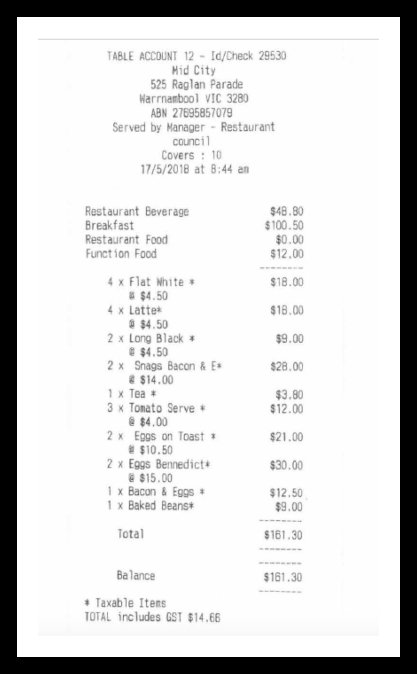 Much of this spending may be perfectly legitimate in the course of conducting normal council business, but for this first story – this is the first of a series – I am focusing on the incessant eating and drinking, which, the council argues, is all part of the job.
Let me give you a few examples, from just one month, May 2018. (You can see the full list at the end of this piece).
On 17 May last year, Mr McMahon's card was used to pay for a breakfast meeting at the Midcity hotel at a cost of $161.30.
The next day, the card was used for breakfast at Fishtales for $97.10.
A week later, on 27 May, another $57.90 was spent on breakfast at Fishtales and $13.50 at the Main beach kiosk.
Four days after this, on 31 May, another $172.50 was spent on "meals" at Bojangles.
And that is just for May 2018.
If we wind back to 12 May 2017, we find $173 was spent at Hotel Warrnambool on a dinner that included dishes of eye fillet, pork belly and seafood linguine.
Less than a month later, on 1 June 2017, another $213.60 was spent on more meals at the Hotel Warrnambool that included more dishes of eye fillet, seafood linguine and soft shell crab.
Swing into July 2017 and you will find a neat $546 spent on share plates and tapas at The Hairy Goat on 8 July.
A few weeks later, on 14 August, another $314.50 was spent at the same place, on more share plates and tapas.
Bang, there goes another $1200, and we have no idea why, because the council has provided no details.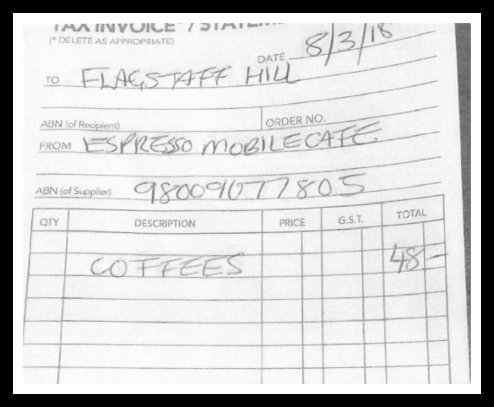 And then there are the coffees, the endless coffees: $20 here, $15 there, $48 and $56 other times, and on it goes as ratepayers pick up the tab for coffees on a regular basis.
For example, in March this year, more than $64.20 was spent on coffees in just one day, from two different locations: the Espresso Mobile Café and at Rough Diamond.
You get the picture.
But there is more, because this is not a complete picture.

The credit card statements released exclude a number of transactions removed by the council because they deemed them "not relevant" as someone repaid them.
The council won't reveal who made these repayments, for which transactions, and why, but I have good information to suggest the total repayments were  between $5000-$6000.
This means a further $5000-6000 was spent on this card that should not have been.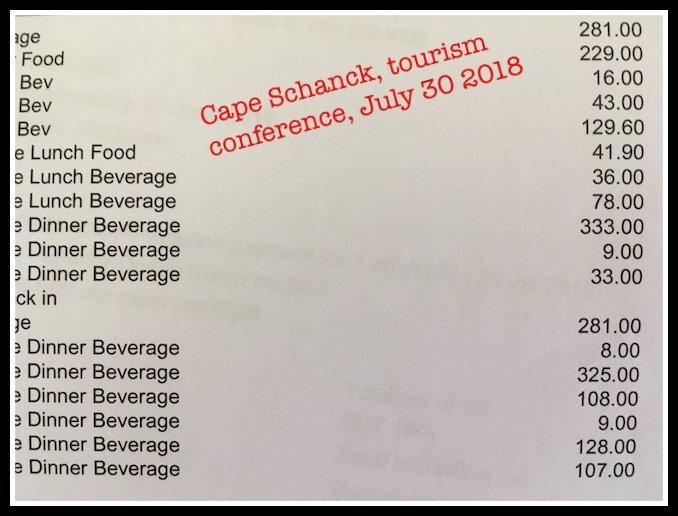 I can also say that at least one of these missing transactions is for more than $1000 spent on food and drinks at the Cape Schanck RACV resort during a tourism conference last July, which I wrote about earlier this year and which prompted this deeper investigation.
So that's thousands in spending on meals we know about, and thousands more that was repaid and is now considered secret.
The fact that this sort of thing is going when ratepayers are being asked to pay more because of "tough times" is disgraceful.
And remember that this FOI covers just one credit card, for one council staff member.
There are 81 corporate credit cards in circulation at WCC (elected councillors don't receive cards).
It is also important to remember that we are not talking about spending by a private business. This is local government, which means this is public money, your money and for which every cent must be accountable.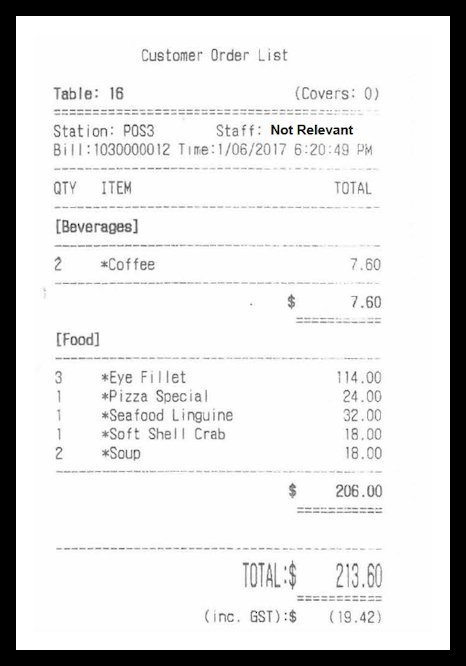 So who was scrutinising Mr McMahon's credit card transactions?
The council won't say exactly, but confirms it must be a line manager, so I would assume this means Mr McMahon's manager, Director City Growth Andrew Paton, must have signed off on the eye fillets and grazing plates and endless breakfasts and coffees, and considered it all perfectly okay.
Such is the culture that has been allowed to develop within the upper echelons of council over the last decade –  a culture of entitlement, with very little public scrutiny.

It is this culture that most ratepayers hoped would end under the new CEO Peter Schneider.
To be honest, I thought that when this FOI came to light, Mr Schneider and the council would rush to explain that these days of excess were long gone, but I was completely wrong.
Instead, the responses to my first questions were a big bowl of corporate, alphabet gloop.
Here is one spoonful, given in answer to one very simple question "how is this justified to ratepayers?":
"Each authorized (sic) holder of a corporate credit card will perform different roles requiring different stakeholders, different working hours and locations, and therefore different costs of doing business. Some roles may require extensive engagement with business and industry, volunteers, residents, regional engagement and statewide engagement, other roles may not.
"The use of credit cards as a payment mechanism can be of considerable benefit to the Council, ratepayers and the various individuals and organisations that supply goods and services. The benefits are in the form of efficient procurement and reduced administration costs."
You get the picture. (Read the full Q and A to my first batch of questions here).
As it happens, the Victorian Auditor General's Office has just released a report about the potential for corruption and fraud around council corporate credit cards, particularly on spending for meals, travel and petrol. The council says it is taking notice of the recommendations.
I will be writing much more on this particular credit card because there is so much more to tell.
The next instalment is coming soon. In the meantime, here is the full list of dining to digest. See below.
[Thankyou so very much to those who have supported The Terrier with a contribution to the Tip Jar: this story is the Tip Jar at work. You can be part of it here.]
March 2017
21.2.17           Pavilion                                 $18.30
May 2017
3.5.17             Fishtales                                $18.00
12.5.17           Warrnambool Hotel            $173.00
23.5.17           Bottega Toscana                   $7.60
25.5.17           Zambrero Warrnambool     $11.90
 June 2017
1.6.17             Hotel Warrnambool             $213.60
7.6.17             Pavilion                                 $10.00
7.6.17             Pavilion                                 $29.00
8.6.17             Warrnambool Hotel           $63.00
21.10.17         Café Lava                              $10.00
26.6.17           Figsellers café                       $27.60
26.6.17           Wines Patisserie                   $26.20
26.6.17           Fishtales                                $14.00
27.6.17           Wines Patisserie                   $27.00
27.6.17           Wines Patisserie                   $12.00
30.6.17           Coffee Treat                          $28.70
30.6.17           Lady Bay Resort                   $188.40
 July 2017
1.7.17             Graze                                        $78.50
1.7.17             Fishtales                                $10.20
2.7.17             Fishtales                                $42.30
3.7.17             Curly's Pizza                          $26.80
8.7.17             Coffee Treat                          $38.20
4.7.17             Pinky's Pizza Ribs                 $32.70
4.7.17             Pinky's Pizza Ribs                 $9.80
4.7.17             Coffee Treat                          $38.20
5.7.17             Coffee Treat                          $20.20
5.7.17             Coffee Treat                          $32.20
7.7.17             Coffee Treat                          $20.20
8.7.17             Seanchai Irish Pub               $48.10
8.7.17             The Hairy Goat                     $546.00
8.7.17             Brown's Depot Bakery         $41.00
9.7.17             Cactus Jam                            $40.00
9.7.17             McDonald's                           $18.60
10.7.17           Fishtales                                $22.20
14.7.17           Bottega Toscana                   $35.30
19.7.17           Two Tarts Baking                 $139.00
August 2017
4.8.17             Hoppy's Café                        $19.20
7.8.17             Fishtales                                $20.00
14.8.17           Hairy Goat                             $314.50
Sept 2017
21.9.17           Pavilion                                 $79.00
21.9.17           Pavilion                                  $4.00
22.9.17           Brightbird                             $18.40
22.9.17           Fishtales                                $33.70
October 2017
4.10.17           Fishtales                                $80.80
26.10.17         Pavilion                                 $165.50
November 2017
1.11.17           Hotel Warrnambool                 $202.00
3.11.17           Espresso van F/Hill                 $56.00
4.11.17           Red Spoon Thai                       $49.80
6.11.17           Espresso van F/Hill                 $17.00
28.11.17         Rafferty's Tavern                     $233.20
28.11.17         Rafferty's Tavern                    $36.10
December 2017
15.12.17         Pavilion                                       $106.50
21.12.17         Main Beach Kiosk                   $154.00
26.12.17         Main Beach Kiosk                   $45.00
January 2018
3.1.18             Pavilion                                     $51.00
6.1.18             Fishtales                                     $13.80
9.1.18             Pavilion                                       $185.00
12.1.18           Pavilion                                       $80.50
13.1.18           Fishtales                                     $19.50
17.1.18           Brightbird                                   $48.60
24.1.18           Espresso van F/Hill                 $33.00
25.1.18           Simon's Waterfront                 $26.50
February 2018
03.02.18         Maritime                                $175.00
15.02.18         Maritime                                $102.00
28.02.18         Graze                                      $21.90
March 2018
01.03.18         Fishtales                                 $45.00
06.03.18         Fishtales                                 $24.00
07.03.18         Espresso van F/H                  $48.00
08.03.18         Rough Diamond                    $48.00
10.03.18         Figsellers                                $60.00
15.03.18         Brightbird                              $133.00
23,03.18         Fishtales                                 $12.00
April 2018
15.04.18         Coffee Treat                           $35.00
17.04.18         Pavilion                                  $50.00
26.04.18         Fishtales                                 $9.00
May 2018
08.05.18         Graze                                      $60.00
09.05.18         Figsellers                                $9.20
15.05.18         Figsellers                                $24.60
17.05.18         Mid City                                  $161.30
18.05.18         Fishtales                                 $97.10
27.05.18         Fishtales                                 $57.90
27.05.18         Main Beach kiosk                  $13.50
30.05.18         Coffee Treat                           $13.50
31.05.18         BoJangles                               $172.50
June 2018
27.06.18         Coffee Treat                           $12.00
27.06.18         Whalers                                  $614.00
July 2018
04.07.18         Fishtales                                 $32.90
06.07.18         Brightbird                              $37.60
19.07.18         Bightbird                                $112.00
24.07.18         Pavilion                                  $10.00
August 2018
01.08.18         BoJangles                               $164.00
02.08.18         Brightbird                              $74.60
17.08.18         Graze                                      $26.80
September 2018
24.09.18         Fishtales                                 $18.00
26.09.18         Pavilion                                  $53.40
27.09.18         Browns Bakery                      $125.00
October 2018
05.10.18         Graze                                      $19.20
08.10.18         Fishtales                                 $22.00
16.10.18         Graze                                      $55.60
30.10.18         Graze                                      $9.60
Total: $6845.70