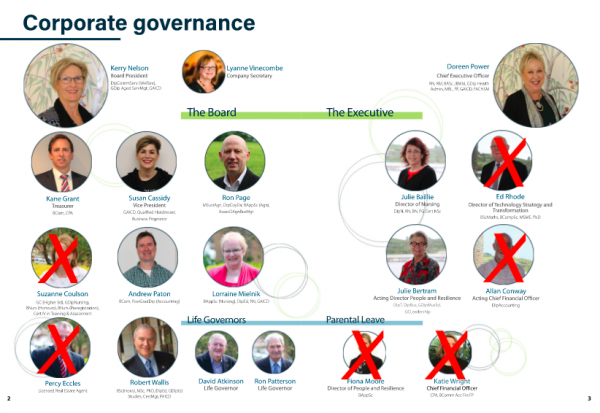 Carol Altmann – The Terrier
Another member of the Lyndoch Living board has resigned – the second resignation from the board in two months.
Suzanne Coulson, a researcher and lecturer at Deakin University in the School of Nursing and Midwifery, joined the Lyndoch board in 2017.
I don't know why Ms Coulson resigned, and I doubt she could speak to me anyway, as all board members are bound by a confidentiality agreement which was introduced after the departure of former CEO Rhys Boyle in 2015.
Ms Coulson's resignation follows that of veteran board member Percy Eccles, who left in March after serving almost 10 years.
Ms Coulson was one of only two board members with medical qualifications. The other is fellow lecturer in the Deakin School of Nursing and Midwifery, Lorraine Mielnik.
The resignations of both Mr Eccles and Ms Coulson come as Lyndoch Living faces mounting pressure to explain a number of concerns around its plan to build a $24 million medical clinic on site, with fears the project could send Lyndoch broke.
Lyndoch's former Acting Chief Financial Officer Allan Conway raised the red flag publicly when he said he did not support the clinic project in its current form.
Lyndoch recently appointed its third chief financial officer in five years, with the departures of David Knight and Katie Wright.
Other recent executive resignations include IT director Dr Ed Rhode and Director of People and Resilience Fiona Moore.
A community action group made up of Warrnambool residents concerned for the future of Lyndoch was launched last week – you can follow/like the "Keep Lyndoch living" group on Facebook here.