Carol Altmann – The Terrier
At the risk of turning The Terrier into a local version of punters.com, there is some interesting news around about the local racing world.
First, it is official: the highly successful Perth-based trainer Lindsey Smith is expanding to Warrnambool, after being granted a Victorian racing licence by Racing Victoria.
This means he can now take over the Warrnambool stables of disgraced trainer Darren Weir.
A spokesman for RV confirmed today that Mr Smith's licence had been approved and this included permission to operate out of Weir's former stables that, as has been reported, were sold earlier this year to a "mystery buyer" from north-east Victoria.
This mystery person invited Mr Smith, who was/is a friend of Weir's, to take over the 40-stable complex that Weir had built at the Warrnambool racecourse. (Read more about Mr Smith's connections to Weir in an earlier piece I wrote here).
In an interview earlier this month with racing.com, Mr Smith said he planned to build his Warrnambool presence slowly, with five of his horses training in Victoria now, and another 10 to come some time in the future.
A total of 15 racehorses is a far cry from the 100 or so Weir was pushing through Warrnambool and again begs the question of whether access to Levy's Beach is now necessary to accommodate the demands of trainers, or whether Lady Bay is  – as Warrnambool City Councillor Michael Neoh is apparently investigating – more than enough.
Racing.com said Mr Smith will remain based in Perth, with his Victorian branch managed by former Weir foreman, Maddie Raymond.
* * *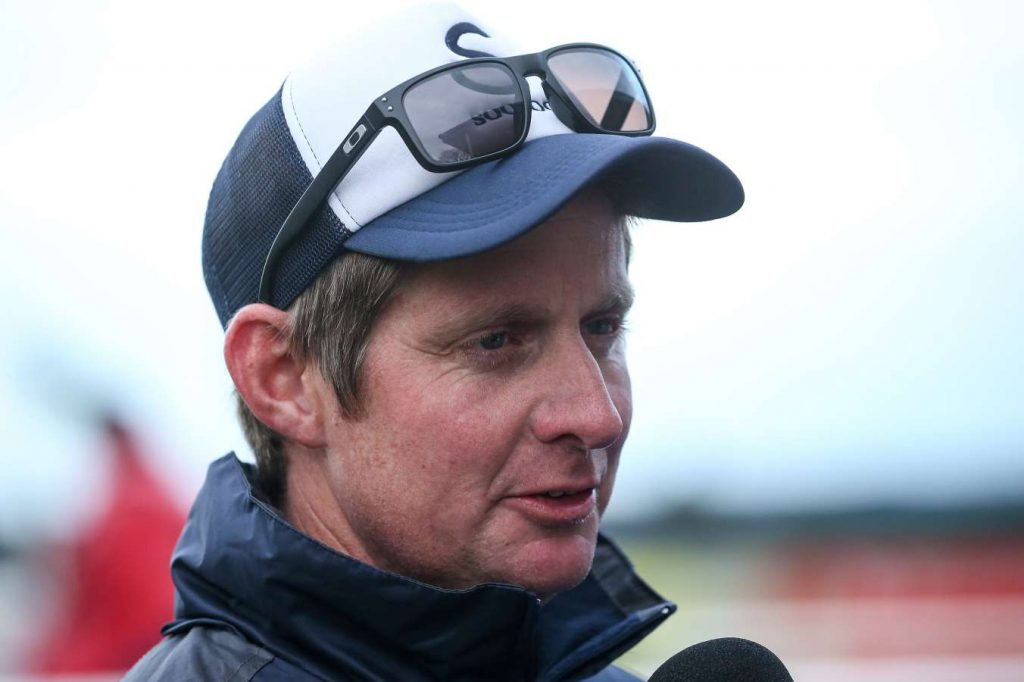 Meanwhile…what in the world is happening with Weir and the police investigation following the January police raids in Warrnambool and Ballarat?
All I can tell you is that Victoria Police has confirmed that its investigation into Weir is still ongoing, and no criminal charges have been laid.
(Please, no comments about this investigation, as it is an ongoing and dumb comments could get The Terrier – as a publisher – into a tonne of trouble.)
Weir, for those who have been living under a rock, is serving a four-year ban from racing for a range of offences under the rules of racing, including possessing an electric 'jigger' that can be used to shock horses.
And other meanwhile…Weir's foreman and local trainer Jarrod McLean is still yet to appear before the Racing and Disciplinary Board for a range of charges laid against him by racing stewards as a result of the January raids. (Mr McLean is also part of the police investigation.)
Mr McLean's case came up for a "mention" at the RAD board last week and, according to the RV spokesman, the parties are now awaiting further orders from the RAD Board. It's a slow road.
* * *
To finish this wrap on racing, I have managed to get some answers to the question of why the public buses were not running in Warrnambool on May Race Day to anywhere other than the racecourse.
It turns out Transit South West (which unfortunately did not return my calls about this puzzle) has a contract with Public Transport Victoria to run the buses on normal days of the week, but it is not obliged to run buses on public holidays.
Just to confuse matters, however, the bus company can run a service on public holidays by arrangement with PTV.
And it does.
So, the buses do run on several major public holidays, including Easter Saturday, Boxing Day, New Year's Day and Australia Day, but not on May Race Day.
On May Race Day, Transit South West runs as a "charter service" to and from the Warrnambool racecourse, for a gold coin donation.
As it happens, the bus company is owned by the Lucas family who have close connections to the Warrnambool racecourse, with Margaret Lucas being a long-standing and former chair of the Warrnambool Racing Club.
Given this, it probably makes sense that the company would offer such a service that, by all accounts, is very popular with punters and no doubt reduces drink driving.
Having said that, it is also not surprising that those who don't go to the races and had to instead go to work, were left wondering why the bus wasn't running, especially with so little information available and nothing on the PTV or Transit South West websites.
An A4 sheet stuck under some bus timetables at some bus stops was about as sophisticated as it got.
A very friendly and helpful spokesperson from Public Transport Victoria said the PTV would take the feedback on board for next year:
"We want to apologise to anyone who may not have been aware of the changes to bus services during the Warrnambool Cup Day public holiday.
"We'll take on-board the community's feedback when planning bus service levels on public holidays in the future."
Would you like to support The Terrier? Why not throw something into the tip jar?