By Carol Altmann
[dropcap style="font-size: 60px; color: #8F9F59;"] W [/dropcap]hen it comes to clocking up food miles, the 4.9km from Dennington to the Warrnambool Showgrounds is about as short as it gets.
This is how far the fresh produce travels each week from the Kelson family farm to a Sunday stall at the showgrounds, where Nick Kelson sells under the name Merri Banks Organic Produce.
Nick is the nephew of Frank Kelson, who has 16 acres at the back of the Dennington Oval, including 10 acres under production. The farm has been in the family since 1880 and produces potatoes, pumpkin, sweetcorn and garlic on a large scale for the Melbourne fresh food markets.
Fifteen years ago, Frank turned to organic production, making him one of the first in the region to do so.
"My grandfather was horrified," Nick said, laughing.
"He would say, 'this house was built on super phosphate!'''
As Nick explains, however, his uncle could see the damage that chemicals were doing to the environment and realised that organic production was not only better for the long-term preservation of the farm, but that the produce tasted more like it should.
[dropcap style="font-size: 60px; color: #8F9F59;"] W [/dropcap]hile the bulk of what Merri Banks produces is sold wholesale, locals are fortunate to have Nick selling a select range each week at the Sunday markets.
It is the only place where people can buy the produce direct.
The stall is the size of a couple of kitchen tables and Nick unloads his stock from the back seat and boot of a car, not a semi-trailer.
Some weeks he will have boxes of fresh dug potatoes in a number of varieties, together with pumpkins, carrots and garlic. Other weeks there will be boxes of heritage tomatoes, sweetcorn and beetroot, alongside bouquets of kale, spinach and silverbeet.
It all depends what it is season.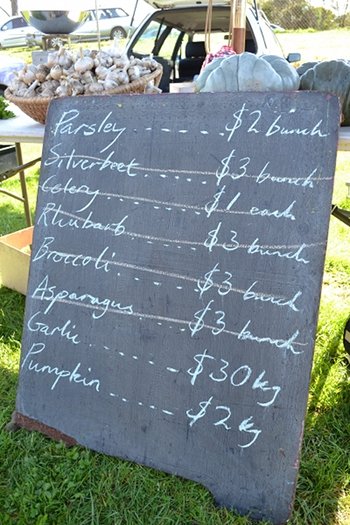 [dropcap style="font-size: 60px; color: #8F9F59;"] A [/dropcap]dvertising is by word of mouth – and a trusty A-frame – with Merri Banks nowhere to be found on Facebook, Twitter or even as a website.
It is an old-fashioned, but winning approach, and Nick finds most of his stock is gone by mid-morning.
"We have been here four years now. It took a while to build up, but we are doing well," Nick said.
Just as he spoke, a man approached to buy a purply bulb of organic garlic. Nick dropped it onto the scale.
"That'll be $1.50," he said.
"Oh! I didn't realise it would be so cheap. I take another two thanks," the customer replied.
"No problem," said Nick, as he placed the bulbs into a brown paper bag and gave it a swing.
[box type="bio"] Merri Banks Organic Produce. Sunday Undercover Markets, Warrnambool Showgrounds. [/box]
[button link="http://the-terrier.com.au/subscribe-2/" type="icon" icon="heart" newwindow="yes"] Did you enjoy this story? Please subscribe here to help Bluestone thrive.[/button]
Other stories you might enjoy…
When life is a real buzz – beekeeping in Naringal
A whole new pecking order for poultry fans
Kaz's googs: the best free-range eggs in south-west supermarkets?