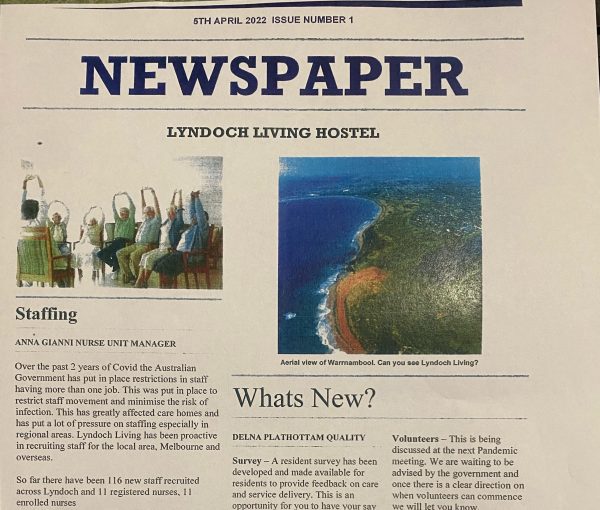 Carol Altmann – The Terrier
Update: Hello again and I have a bit of a Lyndoch Living update for you.
First, it's slow going, but we are inching ever forward with our legal challenge against the Lyndoch board and its blanket rejection of people from becoming a member of Lyndoch.
The barrister we have hired for this challenge has been fully briefed by a local solicitor and now we wait to see if he thinks we have a case that can be taken to either the County or Supreme Court.
I am a Gemini, so patience is not a strength, but I am trying very hard to be patient while he decides whether the board has breached its responsibilities, both individually and collectively.
If he believes we have a case, then off we march toward court.
In the meantime, experienced care and nursing staff continue to leave Lyndoch and many are going to work for other aged care homes in and around Warrnambool.
They are not leaving the industry, they are leaving Lyndoch: what does that tell you?
Many of these staff don't wish to leave Lyndoch and some are bereft at having to leave residents they have known for years, but they either feel they have no choice or have been given no choice. Again, what does that tell you?
Covid has had an impact on aged care everywhere, but it has nothing to do with this ongoing exodus at Lyndoch.
At the same time, I still receive, almost daily, distressing messages from family members of Lyndoch residents worried about their loved ones due to the staff shortages.
I have to be general here, not specific, as specific stories will identify those who are speaking up, so let me be general about these issues which range from basic care to simple comforts:
I am being told of residents not being showered as often as they should be, that incontinence pads aren't being changed frequently enough, that the quality of the food has declined due to cost cutting, that residents can't order an egg-on-toast for tea if it's not on the menu, that meals from outside Lyndoch can no longer be brought in, that cooked breakfasts are down to once a month, that even two little dogs which used to come and visit residents to alleviate their loneliness are no longer allowed in.
Perhaps the little dogs have also been managed out.
Is it all true? I can only trust what these families tell me, as Lyndoch doesn't ever respond to requests for comment, so I have given up trying. I trust the families.
Based on the past three years of pursuing this story, I don't trust Lyndoch to tell the truth about what is going on inside.
Remember, Lyndoch last year failed to tell the public, or residents' families, when it failed the national aged care standards. They found out from reading The Terrier.
As it happens, the Aged Care Quality and Safety Commission visited earlier this month for an unannounced, spot check on Lyndoch, which is currently ranked two out of four stars and in need of "significant improvements". (Source: https://www.myagedcare.gov.au/find-a-provider/aged-care-homes/1238016)
Would you believe it, this "surprise" spot check coincided with the very first edition of the new Lyndoch newspaper!
What a coincidence.
This pithy publication landed on every resident's bedside table just a couple of days before the inspectors arrived in the Lyndoch foyer.
The paper was bursting with good news, including Lyndoch apparently hiring 116 (!) new staff, including 11 Registered Nurses and 11 enrolled nurses, from overseas, interstate and around the south-west.
116 new staff! Really? I received a message this past week that began with these words: "Things are dire here today…."
This message came from Lyndoch and I can be no more specific than that, because the witch hunt is on for anyone who dares to contact The Terrier.
The witch hunt is on and it's relentless, but ultimately useless, because people won't be gagged.
The residents' families will keep talking and worried staff will keep talking, and as long as this page can keep ticking along, there is always a portal for the truth to come out.
Thanks, as always, for being a part of it.