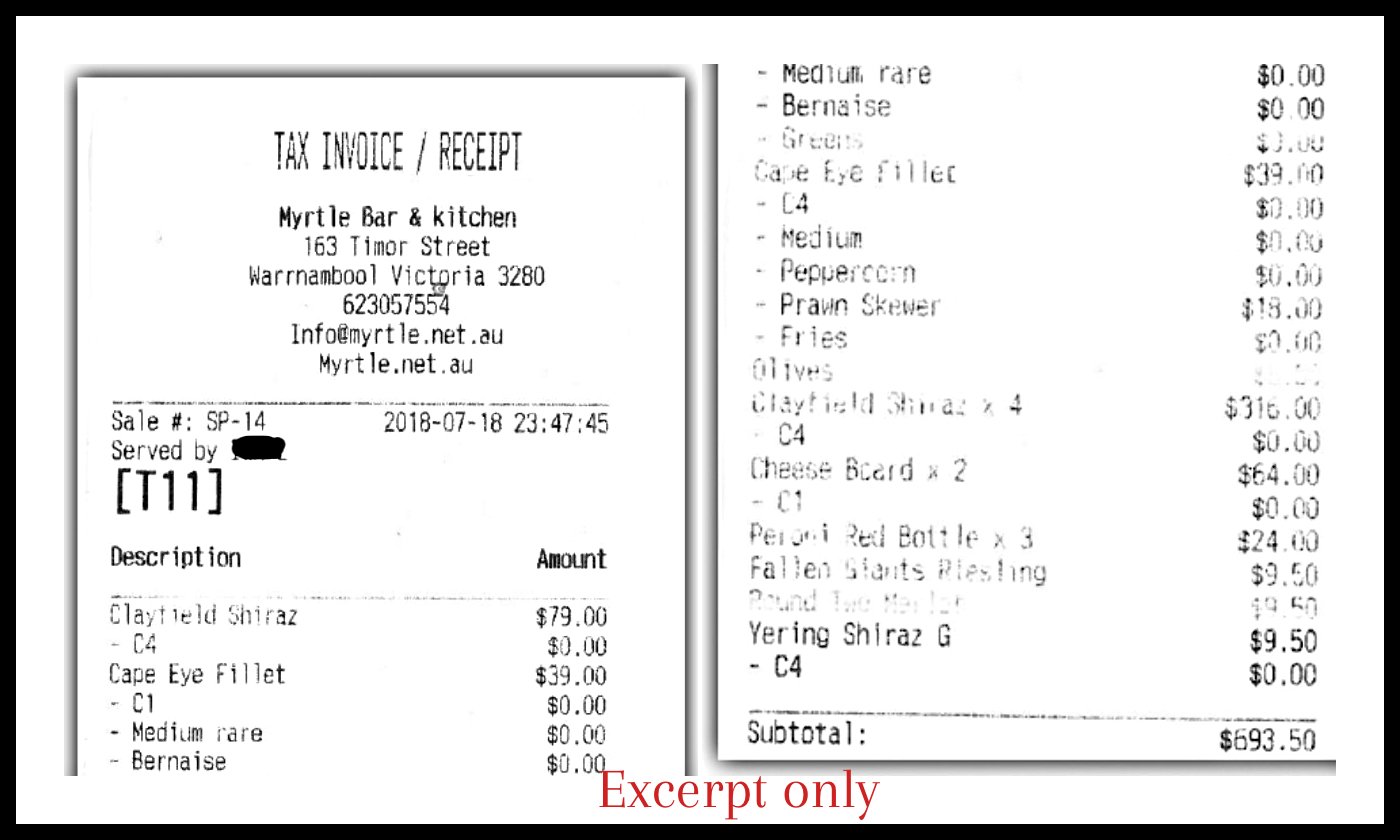 Carol Altmann – The Terrier
More on the Ombudsman's report: The Myrtle Bar & Kitchen.
Readers will recall the story on The Terrier about the almost $700 dinner held at the Myrtle Bar & Kitchen and attended by City Growth Manager Andrew Paton, David McMahon, Cr Sue Cassidy and the head of the Great Ocean Road Regional Tourism authority.
This dinner was paid for on Mr Paton's credit card and included five bottles of shiraz.
Here is what Mr Paton has told the Ombudsman by way of explanation:
"When the evening finished and we settled the bill, I looked at the bill and I was shocked by it. My initial thought was to query it, and then split the bill; and I didn't do that, and, and I regret it.
"So I can see what that looks like, it's about, oh we're building a relationship with GORRT (Great Ocean Road Regional Tourism) by wining and dining them, and I get that, totally get that perception.
"But the picture for me and how I rationalised it, was the outcomes that I got from that discussion, that on balance I had good outcomes, but it didn't meet my personal standards.
"That dinner with Great Ocean Road Regional Tourism delivered some good things, but there are some things that could have been done better that I regret."
—-
I wonder what the "outcomes" and "good things" from this dinner were – wouldn't it be great to see a public report!
The Ombudsman records that Cr Sue Cassidy last October voluntarily repaid $200 toward this bill after she regarded it as "excessive". I guess that's something.
On a similar note, the $1476 dinner held at Pippies By the Bay Restaurant in May 2018 – reported as part of this same story – has led to greater restraint on Sister City functions.
In 2018, it was "free reign in ordering", so of course everyone went for the lobster and abalone.
As the Ombudsman reports: "(this) did not meet community expectations and it (the council) has taken steps to allocate a moderate per head allowance to these meals".
All of which reminds me of the line I wrote in that original story:
"…this is not about catching people breaking the law…but exposing the steaming pile of inappropriate and unjustifiable spending that gives so little return to the ratepayer.
It's this unjustifiable spending – via poor governance – that people want independently audited, cleaned up and cleaned out."
I have to say I am feeling a little emotional as I write all this, knowing that this has now all been exposed after a true team effort, and change has come as a result.
It has been a long road.
More soon.