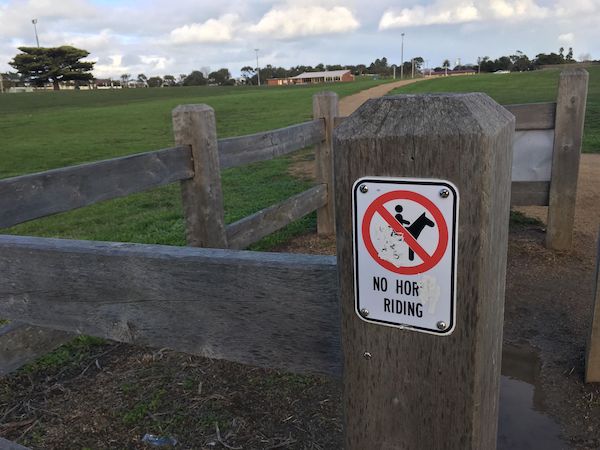 Carol Altmann – The Terrier
How is it possible that professional racehorse training is allowed at Albert Park – a public park – while kids are walking to school?
"Surely not," I said, when someone told me about it happening.
But yes, it is happening, and the reader captured a video to prove it: a rider cantering at speed past Walter Oval and the South Rovers Football Club at around 8am on a recent weekday (see below).
This rider was one of several captured on video that week, but the one I have included here is the clearest footage.
According to this source, there are up to six racehorses at a time using Albert Park on different week days.
For those who don't know Albert Park, it is a wonderful, sprawling, public space set aside by our city's founders for all sorts of recreation and now includes three football ovals, netball courts, a spot for the pony club, a community garden and loads of empty space for people to walk their dogs.
It is also where dozens of school kids (including me, back in the day) walk to and from what is now Warrnambool College.
It is also across the road from the Warrnambool Racecourse: that multi-million dollar facility paid for by taxpayers, trainers and gamblers, where I naively thought racehorses were supposed to train.
But no, just like the story that has evolved around mass racehorse training at Lady Bay – our main public beach – apparently racehorses have been using Albert Park for years.
Years?
I am starting to wonder if I actually did grow up in Warrnambool, because I have no memory of multiple racehorses running along Lady Bay as I went for a swim, or racehorses cantering through Albert Park as I walked to school.
The most dangerous thing we encountered as school kids was the bombing magpies in breeding season and they were pretty formidable.
Racehorses, however, are in another league and I am astonished how far the Warrnambool City Council is prepared to bend the boundaries around public safety.
The council knows the racehorses are using Albert Park.
And they are using it for free, without any fees, or agreements, or restrictions apart from a few "no horse riding" signs tacked to posts which are regularly ignored.
Such is the sense of entitlement that has grown within some sections of the local racing industry (#notalltrainers) that they simply don't care and why should they?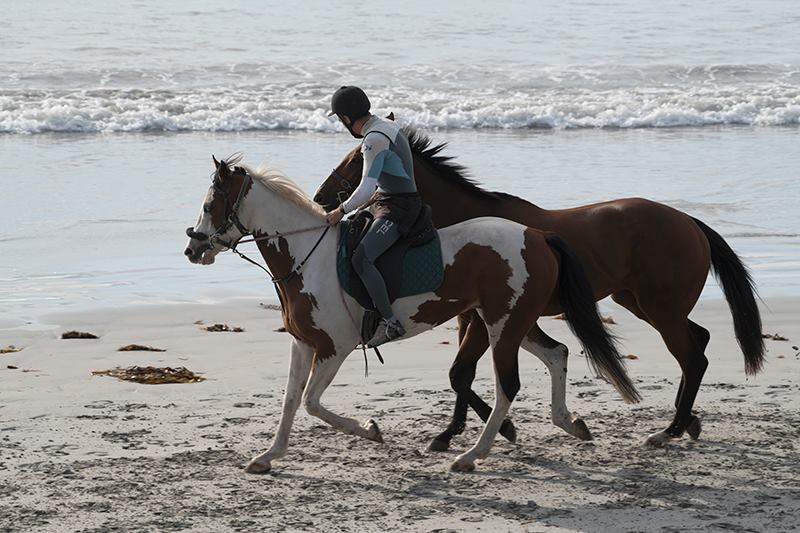 As we know, numerous trainers (#notalltrainers) using Lady Bay beach broke the rules for three years before the evidence became overwhelming earlier this year and the council called a meeting with the Warrnambool Racing Club.
Even then, there were no penalties imposed.
But at least Lady Bay has rules. It is not the case with Albert Park.
"No recent formal agreement has been struck with SWOTRA (South West Owners, Trainers and Riders Association) or the WRC (Warrnambool Racing Club) that permits racehorse training at Albert Park," a council spokesman said.
"Council is prepared to investigate concerns related to the use of an area and, if provided with details of an activity, will make appropriate inquiries."
So here we are again, with the public having to monitor via smartphones and note-taking what is going on in our public spaces and places.
But what are the racehorses doing there in the first place?

And why do commercial racehorse trainers get to use this area for free?
That is a question I am sure the sports clubs who use the public sportsgrounds at Albert Park would love to know, because they are facing a 100% increase in fees.
The closest I can get to an answer is that the racehorses are hitching themselves to the Warrnambool Pony Club, which is a bit like sprint cars turning up at a go-cart track.
"Albert Park has some long-established uses related to horse-riding activities. The pony club is located at Albert Park," the council spokesman said by email.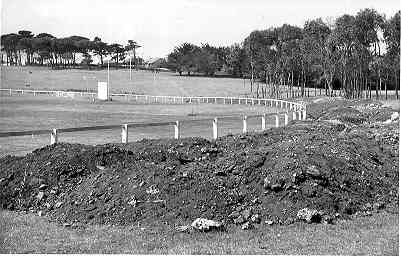 The Warrnambool Pony Club includes the WRC among its sponsors, and, of course, involves more than little kids on Shetlands.
It holds events and gymkhanas and has an area set out for its activities, but these events are held on weekends and in a very specific space. Pony club is not for commercial gain, but fun.
Only in the context of WCC's capitulation to the WRC could a racehorse working on weekdays be equated to ponies trotting around on weekends. Such are the times in which we live.
If you would like to support the work of The Terrier, you can make a small contribution to the Tip Jar.