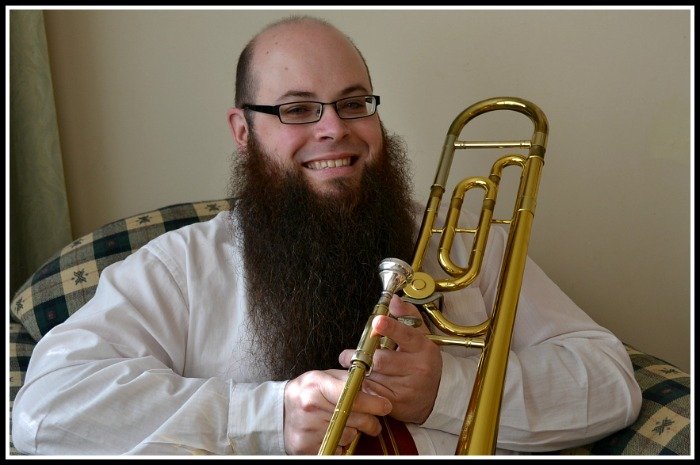 By Carol Altmann
The beard is back and there is no more lustrous, free-flowing, eye-catching example than Paul Howlett's in full flight as he strides down Koroit St.
I first saw Paul's beard before I saw Paul, its full form divided directly down the middle, two halves happily united at the chin, but separating at the chest as they momentarily caught the breeze.
"It tends to do that," Paul tells me later.
The whole, heart-warming spectacle was enhanced by the fact that Paul, 33, has very little hair on his head, as if the beard, in its sheer bulk, was making fun of the follicles that occupy the top floor.
There was also something delightfully defiant about the fact that when I spotted Paul, he was walking into the conservatively decked out establishment of Coffey Hunt, chartered accountants and tax specialists.
(I find out later that Paul works as an accountant for the opposition, Sinclair & Wilson, and that this was merely a visit.)
Even when he is wearing the muted professional uniform of a crisp white shirt and dark pants, Paul's beard gives the game away: there is more to this guy than meets the eye.
And I was right. He also plays the slide trombone.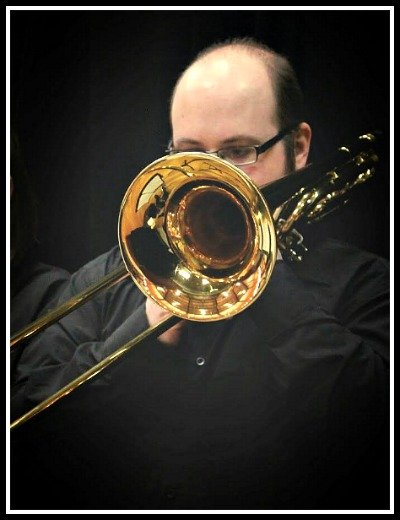 [dropcap style="font-size: 35px; color: #8cc7d0;"] B [/dropcap]
ut let's stick with the beard for the moment.
"I really didn't think I could actually grow a beard this long," Paul says, "but I really like the length now and I really like the feel of it".
The beard began as a bit of teenage bum-fluff that Paul grew for a high school production of Peter Pan ("I was playing a pirate…") when he was a year 12 student at Warrnambool College.
From there it morphed into a goatee that extended itself occasionally for Movember, but it wasn't until December 2013 when Paul had three weeks holiday from his job at Sinclair & Wilson that he let it grow…and grow…and grow.
"The guys at work were a little surprised when I came back, but (my bosses) are okay with it," he laughs.
"A few people have suggested I should trim it right up, but I'm happy with it."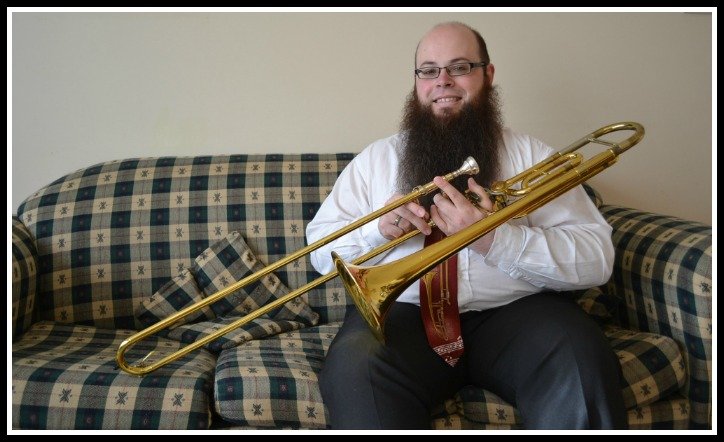 So how does Paul manage a beard that falls to his heart line when playing a slide trombone?
Surely it is a recipe for a painful pinch during a performance with the Warrnambool City Band, of which Paul has been a member for 20 years.
"Actually it's not too bad," he says,"except for when it occasionally catches in the trigger".
A trigger, I learn, is a little device at the top of the trombone that can be pressed to help push the sliding arm, making it less strenuous for the musician.
"It can be a bit painful when you realise the trigger is also pulling the hair on your face," Paul says with a slight wince at the memory.
But Paul is not about to give up his favourite instrument, which he was encouraged to learn while at high school and has played pretty much ever since.
"The trombone I have at the moment, I actually found it on ebay," he says, proving that it really is possible to buy just about anything online.
Aside from regular performances with the City Band in both its concert band and jazz band ensembles, Paul also plays with a Hamilton-based big band, Trax, together with some blues work and the occasional trip into the orchestra pit for live theatre productions.
It is clear that talented trombonists stand out from the crowd in the south-west.
"There are not many of us in town, that is true," says Paul, before rattling off the names of two others and a young man who is still learning.
I think it is also fair to assume that, among this group of four, Paul is the only one with such a distinctive appearance.
"Um, yeah, I think so," he laughs.