The Terrier – Carol Altmann
There is an interesting follow-up to our March piece about the removal of the two historic Norfolk pine trees from the Warrnambool Police Station, including where the timber is now.
Thanks to a couple of tip-offs, I can firstly pass on a local newspaper article from 1998 that stressed the importance of retaining these trees when the new police station was being designed.
I can also tell you that the bulk of the timber from these two towering specimens has ended up in Melbourne and will be turned into furniture.
But first to the newspaper article.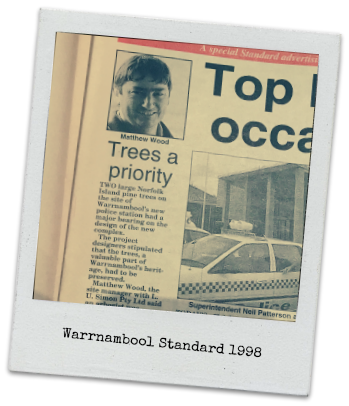 It confirms that the project designers, L. U. Simon Pty Ltd, went out of their way to make sure that trees were preserved because of their historical connection to the neighbouring Church of England complex, of which they were once a part, and their "valuable" contribution to Warrnambool's heritage.
According to the article, written as part of a special promotion for the opening of the new police station, an arborist was bought in to ensure the trees were protected as the new station was built.
Site manager Matthew Wood was quoted as saying: "Part of our contract was to look after the trees. We had to design and build around (them)."
Yet despite this, as we now know, the trees were removed last year because they were apparently causing flooding to the police building.
Based on the documents we received in a Freedom of Information application, the removal was approved by the Warrnambool City Council without the need for any arborist's report, or any detailed assessment whatsoever, but rather the word of the police officer who made the request.
This, as I have said before, is not just about two trees. It is about due process, and how what was once considered precious to our city is so easily done away with.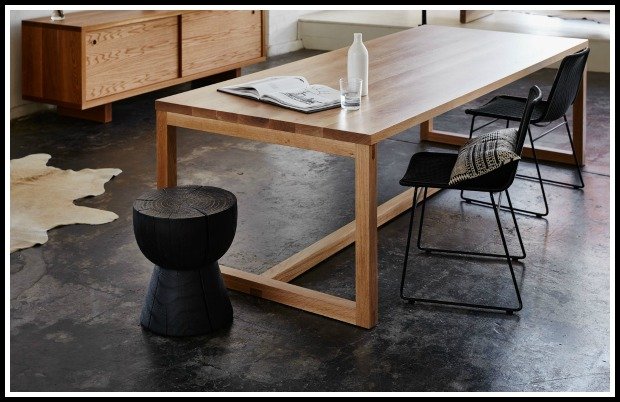 At least the trees didn't end up as landfill or mulch.
Again, thanks to a tip-off, I learned the bulk of the timber has been taken to Melbourne to high-end furniture making firm, Mark Tuckey. 
A spokesman for the company said it was in storage, drying out, but didn't respond when I asked who had given it to them.
One piece of the pine has already been turned into a giant table now in use in the revamped foyer of the Warrnambool Art Gallery.
Inspired by Fletcher Jones' silver ball water tower, the piece was made by Melbourne interior designer Chris Tomoya (Tomoya & Co) as part of the foyer refurbishment.
There is no doubt that this timber makes for beautiful furniture, but I still can't help feeling its a bit like having a deer's head above the fireplace: the living thing is so much better.
Did you miss this story?