By Carol Altmann
If ever I need reminding of how the horse racing industry permeates so much of Warrnambool life, I just read the monthly invoices that arrive from Lyndoch nursing home for my mother's care.
"Proud sponsor of the Waterfront by Lyndoch Living Grand Annual Steeplechase", it says at the bottom of each email.
Why on earth, I thought, would a publicly funded aged care home spend even money sponsoring a jumps race?

Why not spend the $50,000 or $60,000 or whatever it was on a new bus for the residents?

And has it been worth it?
The sponsorship was designed to help Lyndoch sell its luxury riverside apartments – Waterfront – that opened in 2014 with 17 apartments priced from $420,000 to $665,000.
As was reported by the local paper in early 2017, the three-year sponsorship deal was signed just a few months after the CEO of the Warrnambool Racing Club Peter Downs joined the Lyndoch board.
Lyndoch board chair Kerry Nelson told the paper Mr Downs excluded himself from any decision making around the sponsorship, as you would hope, but whose idea was it to sponsor the steeplechase in the first place?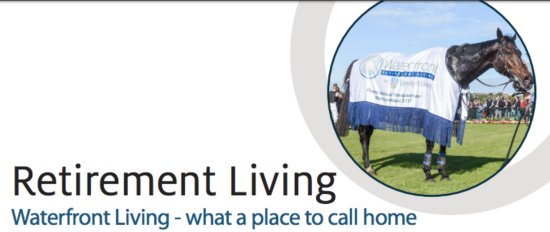 In a series of emails and a follow up phone call, I asked Lyndoch CEO Doreen Power a whole bunch of questions about the sponsorship arrangement and the apartments. I also asked Ludeman Real Estate about the apartments, which they list.
Despite first asking these questions way back in July, Ms Power has chosen not to respond at all and, more recently, Ludeman Real Estate agent Mark Dwyer referred me back to Lyndoch.
In my profession, you can always tell when you are treading on uncomfortable ground by the depth of silence that follows your questions. If people feel good about a project, they can't wait to tell you all about it. (And when a real estate agent declines to talk up a property, you really must be on to something!)
I still don't know for sure who came up with the steeplechase sponsorship idea, but I do know that about a third of the apartments remain unsold and are proving hard to sell.
The prices for some apartments also appears to have dropped.
As mentioned earlier, the starting price listed in 2014 was $420,000, but according to the Waterfront website, one sold recently for $379,000.
Another was listed for sale on the Waterfront website at $559,000, but looks very similar to that listed by Ludeman Real Estate for $490,000.
As of today, six of the 17 apartments remain unsold and, from what I have been told,  there are two main reasons for that. The first is that the apartments are not the "cream of the crop" which were snapped up quickly and often at high prices.

The remaining apartments don't have the same river views, or face to the south, rather than the sunnier north. 

The other reason is that Lyndoch was starting to talk about building Stage 2 of the development, when Stage 1 was still not fully sold.
What this means is that potential buyers would rather hold off and try to grab a "cream of the crop" apartment in Stage 2 than invest in what remains of Stage 1.
The problem is, of course, if Lyndoch forges ahead and builds Stage 2, it could repeat the same problem all over again: the top apartments sell and the others remain stagnant.
This is just the sort of dilemma faced by property developers everywhere and Lyndoch is now, effectively, a property developer with some fairly high priced real estate sitting empty.
Part of the sales pitch by Waterfront has been to lure retirees from elsewhere to Warrnambool, which was partly the point of slapping its logo all over the May Race Carnival, when there are lots of visitors to our city.
If the sponsorship deal hasn't delivered rock solid results, however, then it has been a waste of money and I suspect when the deal expires after the 2019 event, Lyndoch won't be placing the same bet again.
If you would like to keep seeing more pieces like this about local issues, please make a small contribution below.