Carol Altmann – The Terrier
Look closely, this is the slow ruination of a public reserve by Lyndoch Living through ongoing, illegal parking with impunity.
They are photos of Scoborio Reserve, a public reserve on the north side of Lyndoch and the original site of the Warrnambool botanic gardens.
It is named in honour of a head gardener, Charles Scoborio.
It's a place where a few remnant scraps of native vegetation cling to what used to be a rich habitat along the banks of the Hopkins River as part of the Peek Whurrong lands.
Yellow-crested black cockatoos, pink-chested galahs and nesting magpies still like to hang out there.
And now, bit by bit, it's being lost to the expansion of Lyndoch.
Lyndoch is turning the eastern end into an unofficial staff car park because it has failed to ever provide enough staff and visitor parking on its own land.
The reserve is becoming a mud bath.
What was once a handful of cars has grown to 30 or more a day.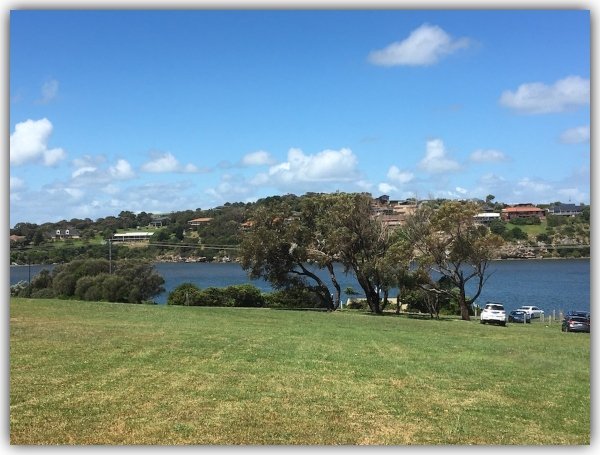 That's because the opening of a mini medical clinic at Lyndoch and demolition work for the $22 million medical clinic has pushed scarce parking on site to breaking point.
Lyndoch has even had the gall to direct staff – in writing – to park on land that it doesn't own because it couldn't be bothered to find its own solution.
And what have the WCC officers done about it?
They haven't, as you might expect, told Lyndoch to stop.
In fact they haven't moved one inch to protect the reserve from this illegal activity.
No, what they have done is actually far worse than doing nothing: they are looking at ways to let it go on.
The council officers – NOT the elected councillors* – are busily working to solve a problem that is not their problem and are offering up a piece of public land in the process.
In other words, if Lyndoch breaks the law, the council doesn't fine them, but bends to them.
What a disgrace.
I wish I could say this was a one off.
You may recall the large corporate sign that was installed on the side of Lyndoch last November without a council permit.
Seven months on, the permit application (lodged after The Terrier story) is still being processed.
The illegal sign is still there.
Lyndoch is also, as we speak, committing an offence under the State Planning and Environment Act by ignoring the permit conditions for its mini medical clinic.
Part of the permit issued by council staff (NOT councillors*) included a clear traffic and parking plan.
This plan has been completely ignored by Lyndoch ever since the clinic opened on 4 April.
Has anything happened as a consequence? Was the clinic forced to close immediately?
No, of course not.
And here comes the pub test.
All of these breaches are happening while the WCC chief of planning, Andrew Paton, sits on the Lyndoch board.
He is also a director of the Warrnambool Medical Clinic, a commercial, private company owned by Lyndoch that is driving the $22m project.
Former WCC Acting CEO and community services manager Vikki King is also deputy chair of a board chaired by the Lyndoch CEO and managed by Lyndoch.
How is it okay for senior council managers  – a chief planner and a former Acting CEO no less – to be anywhere near an organisation that requires multiple council approvals* as part of its expansion?
(You might also recall the secret talks between Lyndoch and the WCC about 18 months ago to sell off part of Scoborio for a childcare centre before exposure by The Terrier cut that off at the pass.)
The WCC says Mr Paton has declared a conflict of interest in all planning and applications from Lyndoch* and has not been involved in any decisions.
And Mr Paton, for his part, told me both positions he holds with Lyndoch are, "to date", voluntary.
I have no doubt Mr Paton has acted with integrity, but that is not the point.
The question is, why would he put himself in that position in the first place and why would the WCC allow it?
If Mr Paton was a board member of a building company that was rolling out $100m worth of housing on Hopkins Rd hill, eyebrows would be up.
Why is it not the case here as Lyndoch rolls out a $100m masterplan*?
This is precisely the "wheels within wheels", "who-you-know" rubbish that the people of Warrnambool are sick of.
We are all tired of doing the right thing – applying for permits, parking within the lines, paying our fines – while others sail past in the express lane of exemption and ruin public property in the process.
Insiders and outsiders.
As I wrote after the Schneider court victory, those days are done and it's time for the WCC to end it, regardless of who is in charge.
* Not one part of Lyndoch's $100m masterplan so far has gone to full council for approval by the elected councillors. Each part has been signed off by delegation.