Carol Altmann – The Terrier
Thanks to some great digging by all of the terriers out there, we now know that Warrnambool is the second most expensive place in the whole of Australia to register your desexed dog.
The most expensive place is Bayside Council, the council that covers the multi-million dollar suburbs around Brighton, Melbourne. It charges $78.
Our council will this year charge $70, up from $54 last year, because of a 300% increase in costs passed on by the RSPCA that runs the Warrnambool City Council-owned pound on behalf of the council.
In 2017, the council put out a tender to run the pound for the next three years and got only one response, which was the RSPCA.
Despite the RSPCA jacking up its fees by a whopping 300% this year to $331,918, this monopoly option was still chosen by the council as the best option.
As a result, we are now paying more than just about everyone, including councils the same size as Warrnambool:
Warrnambool: $70

Ballarat City: $40

Greater Bendigo: $45

Greater Geelong: $41.40 

Greater Shepparton: offering discounted fees to encourage registration: fee $32. Normally $40

Horsham Rural: $42

Latrobe City (Traralgon): $43

Mildura Rural: $44

Wangaratta Rural: $43

Wodonga: $50
Now look at how we compare with our neighbouring councils:
Moyne Shire: $39

Glenelg (Portland) Shire: $35
Until last year, Moyne Shire shared the costs of the Warrnambool pound, but decided a 300% increase was off the scale, so it looked elsewhere. It now uses the Southern Grampians Shire pound in Hamilton.
In Port Fairy, it costs $39 to register your desexed dog and in Hamilton, it costs $43.50.
Glenelg Council was similarly cost savvy. In 2016, the RSPCA in Portland told Glenelg Council it would have to increase its pound fees by 400%, The council effectively said "don't be so ridiculous", the RSPCA backed down and the council still uses the pound.
In Portland, it costs $35 to register your desexed dog: half of what Warrnambool is expected to pay just 90km down the road.
Let's now go further afield.
Greater Bendigo Council this year announced it was taking back control of its pound from the RSPCA because of the rising costs over which, of course, it would continue to have no control. Bendigo charges $45 per dog.
There is an RSPCA shelter in Castlemaine, but the council there (Mt Alexander Shire) doesn't use it and runs its own pound. It costs $46 to register your desexed dog in Castlemaine.
There is also a big RSPCA shelter in Burwood East, but the local council there (City of Whitehorse) switched from the RSPCA to Animal Aid in 2017. It costs $55 to register your desexed dog in Burwood.
There is also an RSPCA shelter in Wangaratta, but the council there uses the pound run by the city of Albury/Wodonga. It costs $43 to register your desexed dog in Wangaratta.
There is also an RSPCA shelter in Ballarat, but in 2017 the Ballarat council moved across to the new, government-run Ballarat Animal Shelter. It costs $43 to register your desexed dog in Ballarat.
There is another RSPCA shelter in the City of Casey, in Melbourne, but that council uses the Cranbourne Animal Shelter and Lost Dogs Home. It costs $54.50 to register your desexed dog in the City of Casey.
Do you see a pattern here? I don't know what is going on within the RSPCA that has seen it move to a "full cost recovery model" for its pound services, but it hasn't gone down well.

Except in Warrnambool, where we are sticking with the RSPCA and going solo. We didn't even try and stare the 300% price hike down, like Glenelg.
The council did, apparently, look at the cost of running the pound again itself, but decided the RSPCA was the better option. Really? At the second highest cost anywhere in Australia?
We have to trust the council on this, because the cost of the alternative – running the pound itself – has not been made public.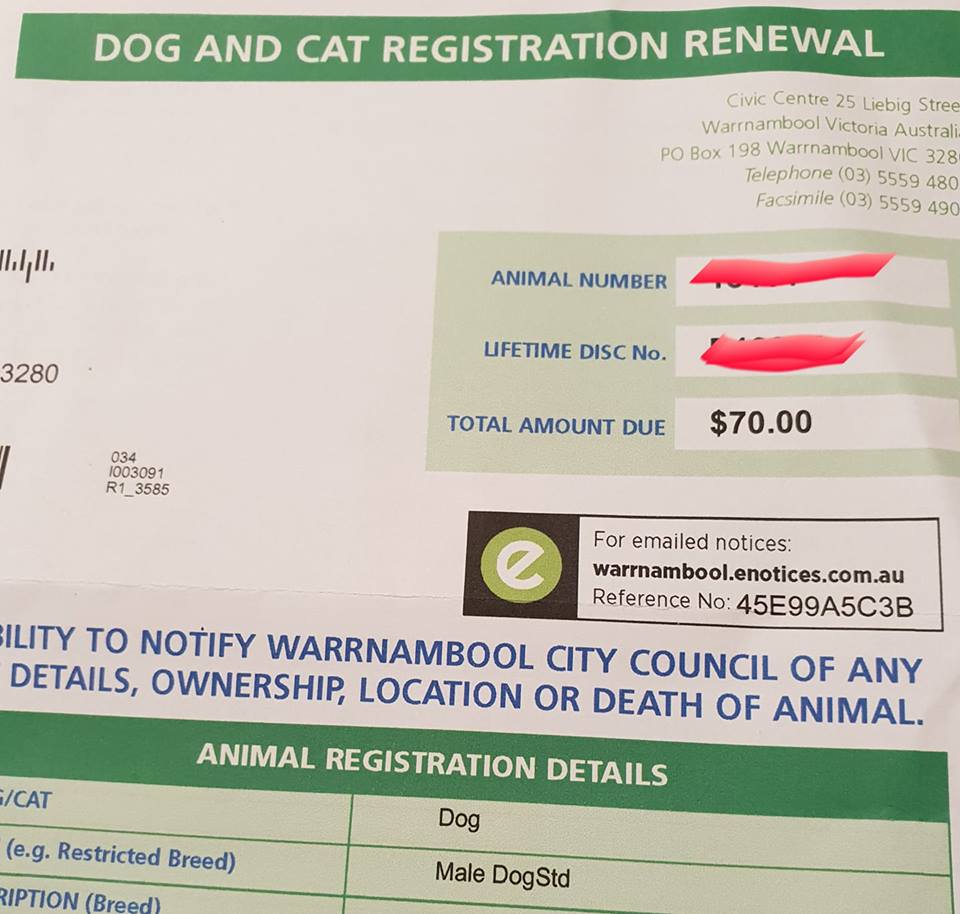 This year the cost is $70 per desexed dog, but that will most likely increase in the next two years, when the RSPCA will jack up the price again to $417,146 and then $429,666 in 2020-21.
On a simple measure of equity, it is grossly unfair that pet owners of Warrnambool who do the right thing and register their dogs will pay the second highest fees in Australia.
On a broader level, it exposes an inequity across Victoria, which is yet to follow the lead of  WA, NSW and South Australia, where there is one set government fee, whether you live in Port Pirie or Port Adelaide.
In WA, a desexed dog costs $20. In SA it is $40 and in NSW, $57.

When you look at these fees, you can only conclude that we are paying far too much in Warrnambool and nobody has explained why. (You can sign an online petition via the link above).
There is also now zero incentive for anyone to register their new dog in Warrnambool. Why would you?
What this means is that instead of reducing the problem of unregistered dogs, this fee hike will only add to it, creating even more business for the pound. How ironic.
If you would like to see The Terrier keep digging up, sniffing out and chewing on local issues, please consider throwing something in the tip jar.