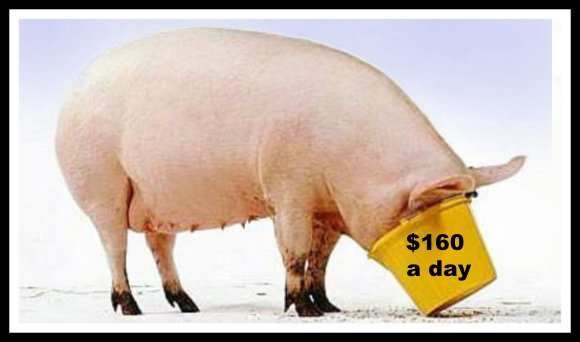 Carol Altmann – The Terrier
In the cashed-up world of the Warrnambool City Council, a staffer travelling on the road can spend $90 a day on dinner, $40 on lunch and $30 on breakfast, and not have to pay a cent of it.
That's a total of $160 per person, per day, paid for by you, the ratepayer.
Send five staff members to a conference and bang, you could have up to $800 a day in just food expenses, without adding the accommodation – and the WCC does send five people to the one conference.
I can't remember the last time I spent $90 for myself on a dinner out, but I suspect I would have had to dress up.
But wait, there's more. There always is.
This $90 daily dinner limit is part of the council's new travel policy, drawn up last November, in response to revelations of excessive spending on food and drink on council corporate credit cards.
Did you see the word "new" in there? This is the new policy, not the old.
This, according to the council executive, has tightened things up.
This, according to the council executive, is the council being frugal, cutting costs, saving every dollar it can: good grief, I dare not think what the policy looked like before we started asking questions. (*Update: the new policy has higher limits than the last policy. Go figure.)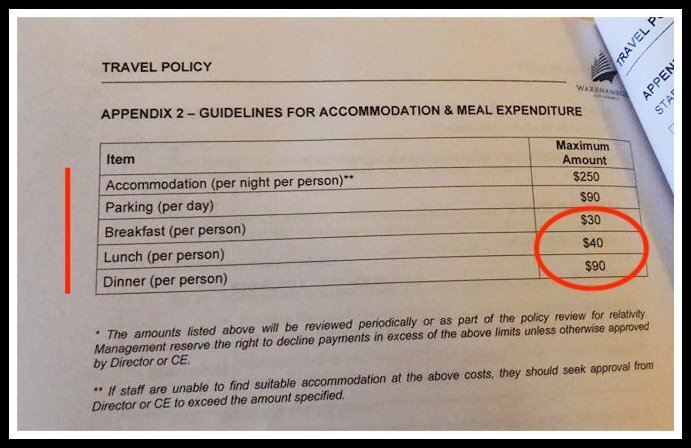 It does make you wonder what planet the WCC hierarchy lives on, because for the rest of us, spending $90 for one person on dinner is called "a very special occasion", not part of a road trip.
Many ratepayers would love to have a breezy $90 to spend each night for dinner and dessert while brushing up on their networking skills, but the truth is, most people could never dream of it.
These are the people I write for.
It is no wonder the WCC hierarchy keeps these policies secret, because remember, we are not allowed to see these "internal" policies even though we fund them.
Fortunately we have other people who want the truth out there.
Because it is clear that those in charge at the council can't possibly justify this sort of spending by some of its staff while bumping up rates pool by 4.5% this year and the next.
And they can't possibly justify it while hitting ratepayers and residents with increases in everything from parking fines to pet regos to sports ground fees.
They can't justify it, but they do it anyway, and that is the disgraceful part of this entire culture of entitlement that I am trying to expose, one eye fillet and one glass of pinot gris at a time.
I can still see the hand-wringing as the council agonised over which services would need to be cut unless it broke the rate cap: childcare, meals on wheels, sweeping the streets?
The 81 corporate credit cards didn't rate a mention.
And the $160-a-day meal allowance racked up on some of these credit cards didn't rate a mention. (Note, most WCC staff don't get to spend these amounts  – the policy is designed to accommodate a select few.)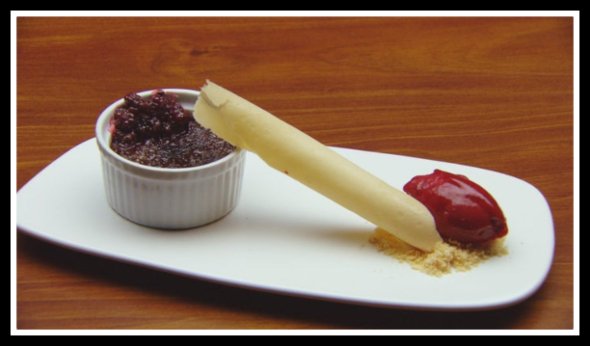 By the way, the Australian Tax Office suggests a "reasonable" meal allowance while travelling is a maximum of $101 a day, including around $48.60 for dinner.
If you are a big wig earning more than $217,000, the dinner allowance is $70.50. Many councils use the ATO figures as their guide.
The NSW public service is even more frugal.
Up there, public servants can spend a maximum of $53.90 for dinner in a capital city, or $49.60 for the country. What a bunch of soursops they are in the NSW Treasury! No creme brulee for you!
If only it were so funny. For the stressed out souls turning up at Bethany trying to work out a payment plan for their rates, it is far from funny.
South West MP Roma Britnell today used the first day back of Parliament to call for a full and independent investigation into the governance of the Warrnambool City Council.
As this travel policy shows, it can't happen soon enough.
Again, thankyou to everyone who helps to keep The Terrier digging. You can be part of it by tossing something into the Tip Jar below.