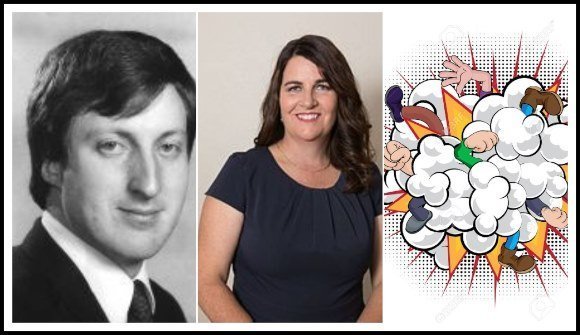 Carol Altmann – The Terrier
Meanwhile, over in sideshow alley, former south-west Liberal MP Adam Kempton has been suspended from his own party for conduct unbecoming, or whatever the party might call it, toward sitting south-west Liberal MP Roma Britnell.
Liberal v Liberal = ah, you gotta love politics.
Adam was apparently suspended after circulating an email that contained a less-than-flattering "gif" referring to Ms Britnell's performance as an MP. Unfortunately the email was also – accidentally – sent to Roma.
Uh oh. ("Back button, back button! Argh!")
Adam, (lawyer, barrister, Member for Warrnambool 1983-85) declined to comment, or to confirm it was indeed he who had been suspended, but said he may comment "sometime in the near future".
The local Liberal Party has a thing going on with emails at the moment.
As was reported in the paper this week, a printed-out email, supposedly sent between Roma and her staffer, Jarrod Wooley, was posted to fellow Liberal MP Bev McArthur (Corangamite).
This email contained a low-grade "death threat" toward Bev and her staffer, Jennifer Lowe, so Bev decided it needed investigating by the police.
Roma decided it needed investigating by the police too, to clear her name.
Good grief, you couldn't make this up.
So senior detectives –  no less – are out with magnifying glasses and DNA kits and god knows what else, trying to work out who sent what to whom, when and why.
They admit it is going to be hard to pin anything on anyone.
I am not surprised, because the whole thing sounds like a very bad episode of House of Cards.
Let's face it, if you are going to be making threats against a Liberal colleague, it's probably not best to a) be a sitting Liberal MP and b) put it in writing.
I am pretty sure the whole thing is a load of cooked up cods, because the back story to this whole saga is there is a section of the local Liberal branch who dislike Roma very much – she was not their choice to run for the seat when Denis Napthine retired – and would rather see her replaced by former WCC councillor Jennifer Lowe or maybe current mayor Tony Herbert.
Call me conspiratorial, but all of this fake-email-death-threat stuff rose to the surface in the very week that Roma calls on the Local Government Minister to launch an investigation into governance and spending at the Warrnambool City Council.
It is a very popular move. Roma is on a roll.
What surprises me most is that some of the names swirling around this saga are the very people who would – normally – welcome such an investigation with open arms.
And yet, if they know anything at all about this whole ridiculous email caper, they are trying to undermine the very person who could help make that investigation happen.
Work that one out.
In the meantime, I am yet to hear whether the fraud police will investigate the goings on at Warrnambool City Council over the use of a corporate credit card. Stay tuned.