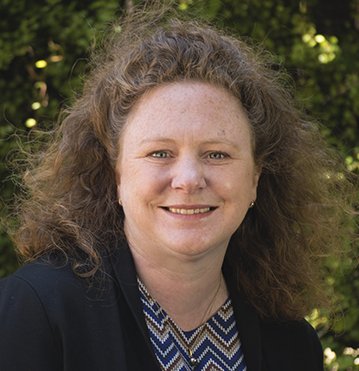 Carol Altmann – The Terrier
Former Warrnambool City Council CEO Peter Schneider failed to perform in his job almost from day one, according to sworn evidence by former councillor Kylie Gaston.
Ms Gaston submitted a 10-page affidavit to the Supreme Court late Monday, setting out her defence as to why she was one of four councillors who voted to sack Mr Schneider on 13 July – 18 months after he replaced CEO Bruce Anson.
(The affidavit was released by the Supreme Court today, after the Melbourne Cup holiday).
Ms Gaston was the last of the four councillors to lodge an affidavit, but the evidence reiterates and reflects many of the justifications made by former councillors David Owen, Sue Cassidy and Michael Neoh, which have already been reported here. Acting CEO Vikki King was the fifth affidavit.
In particular, Ms Gaston refers to Mr Schneider intervening with the now infamous Queens Rd fishing pontoon that was built opposite the then-home of former Cr Peter Hulin, and the results of the council staff survey that showed poor staff morale and concerns of bullying.
Ms Gaston claims councillors also raised concerns with Mr Schneider "multiple times" about key staff not being replaced, governance issues and about staff well-being, but "he did not respond to many of our requests".
Ms Gaston also raises fresh allegations, including that former CEO was under performing virtually from day one and, a month after he started, both she and the former Mayor were checking the fine print of his contract.
"In March 2019…I had a meeting with the Mayor for a general catch up. I asked him how Mr Schneider was going and he told me he was worried that Mr Schneider might be out of his depth.
"Together, we decided to check if Mr Schneider had a probationary clause in his employment contract, as the Mayor did not recall.
"We did not find a probationary clause and just left it at that, figuring that Mr Schneider would start to improve with time".
But, according to Ms Gaston's evidence, the CEO did not improve and in early February 2020 – 12 months after he began – she asked for a copy of his employment contract, which Mr Schneider provided.
All councillors (except Cr Hulin, who had by then resigned) then attended a meeting with Mr Schneider on 21 February to raise their concerns.
"During Mr Schneider's time as the CEO, he was never proactive in requesting feedback, whether from the councillors at meetings, or with me personally. He did not seek feedback even after the meeting on 21 February," the statement says.
Ms Gaston also alleges Mr Schneider held up progress on the new joint WCC/TAFE library project by several months, by failing to follow up and confirm philanthropic funding.
This was later done by TAFE CEO Mark Fidge.
Ms Gaston also reveals that she received a leaked copy of Mr Schneider's psychometric test in the mail, which she showed Mr Herbert.
"When the Mayor saw the results of the psychometric tests, he put his head in his hands and said words to the effect of "Oh God, now this all makes sense," the statement says.
Ms Gaston then goes on to say that Community Services Manager Vikki King was appointed Acting CEO after Mr Schneider's sacking because she had already proven herself in the Acting CEO position (Ms King was acting CEO between Mr Anson and Mr Schneider).
Ms King was also the only one of the four directors available, as Scott Cavanagh had resigned, and Peter Utri and Andrew Paton were "conflicted" by the Ombudsman's investigation, the statement says.
Ms Gaston denied allegations by Mr Schneider and Mr Herbert that she had a close relationship with Ms King and had not socialised with any council staff outside of council events.
The civil case launched by Mr Schneider arguing a lack of natural justice is due to go before the Supreme Court on 1 February.
If you would like to support The Terrier, please consider throwing something in the tip jar.