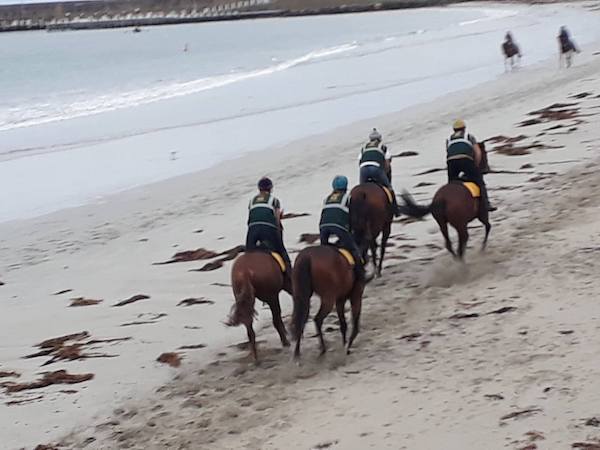 Carol Altmann – The Terrier
I always suspected it was the case, but now it's been confirmed – for almost three years, the Warrnambool City Council did virtually nothing about racehorse trainers breaking the rules at Lady Bay.
Early last year I lodged a Freedom of Information application for all of the correspondence between the council and Warrnambool Racing Club about breaches and alleged breaches of the training rules at Lady Bay.
I asked for everything from 1 December 2016 – which is when the new rules began – right through to 14 March 2019: all letters, emails, the whole lot.
The application took nine months, with the council making me jump through multiple, mind-screwing hoops to narrow down such things as what I meant by "members" of the WRC, what email addresses they should search for, what names they should search for, what keywords they should search for….
On and on it went, at an eventual cost of $216.75 (funded, thankfully, by a grant from the Walkley Foundation Public Fund which supports investigative journalism).
And at the end of all that searching and all that money, the result was just two letters: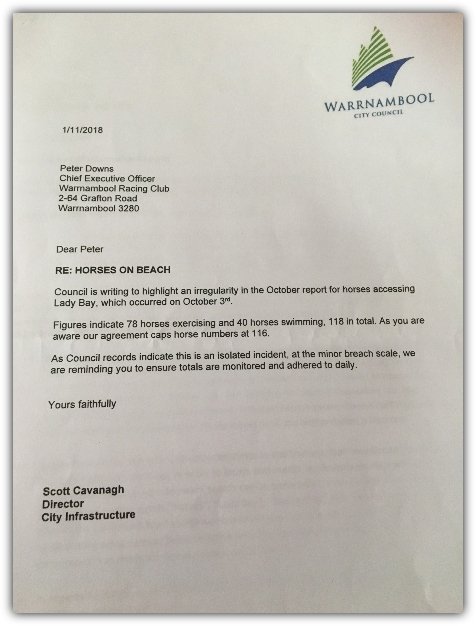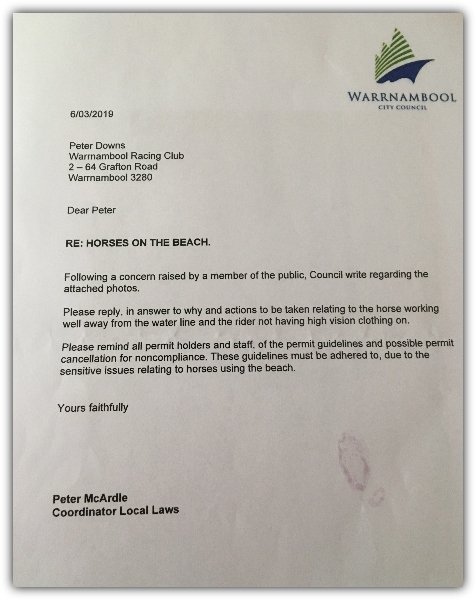 Two, brief letters from the WCC to the WRC in 27 months: one written in March last year and one from November 2018.
This was the total sum of all written correspondence between those in charge, despite the steady stream of complaints (and videos and photographs) from the public during this time showing near misses, a racehorse that had thrown its rider, trainers riding fast past walkers, and numerous other safety issues. (See footage below from 2017.)
Apparently none of this warranted even a single email from the WCC to the WRC.
Perhaps they rang or texted each other, leaving no paper trail, I don't know.
What I do know, however, is that when it comes to cracking down on errant trainers, the council has been extraordinarily weak. 
Let's be super clear here: asking for the rules to be enforced does not mean we are instantly "anti-horse racing" or that all trainers are running amok. #notalltrainers
Instead, it's a reminder that a public beach is just that – public –  and members of the public have every right to be asking the council what happens when things go wrong, especially when it comes to racehorses on Warrnambool's main swimming beach.
Until last November, not one trainer had been suspended or fined.
The council says it has since cancelled the permit of one trainer for breaches, although we don't know who, or for how long, or why, or whether – to be frank – if this actually happened, as some within the industry are unaware of it.
Professional racehorse training at Lady Bay is now the new normal and despite claims that it has "always" been this way, it hasn't.
A second FOI, which I will write more about soon, revealed there were regularly more than 1000 horse workouts a month at Lady Bay until disgraced trainer Darren Weir fell off his perch.
This is not how it used to be, but this is what our council happily signed up for: up to 96 horses running each morning until 10am, seven days a week, from the first day of Autumn to the first day of Summer, including public holidays.
And they did this with a promise that officers would keep an eye on things – the FOI results show that they didn't.
In fact Mayor Tony Herbert has recently taken things one step further and suggested that people who are worried by the racehorses at Lady Bay should go to another beach.
Good grief.
This is an excerpt of what Cr Herbert recently wrote in an email to one resident:
"I have spoken to many people over the past few years and some of them avoid the said beach when training of horses is occurring.  Some find that unacceptable, others find that ok.  WCC approach is trying to achieve a balanced approach.

We are so lucky in our city and region that we have a number of alternatives, if sharing the beach with horses is unacceptable to you in the mornings. During the winter months if I'm walking my dog, I choose to use other beaches and there is a number of them."
In other words, if push comes to shove with "sharing" our main beach, it is the general public that gets shoved.
More on the results of these FOIs soon.
The FOI would not have been possible without a grant from the Walkley Foundation Public Fund which supports investigative journalism.