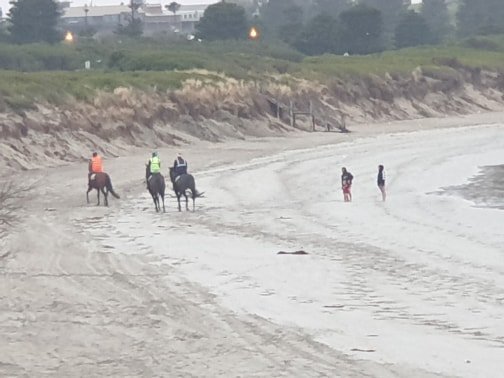 Carol Altmann – The Terrier
Take a close look at the photos above because they show a terrible accident at Warrnambool's Lady Bay waiting to happen – and on the Labour Day holiday yesterday, it came close.
The first shows a small child standing at the shoreline near Worm Bay while three powerful racehorses come running along behind.
According to my source for these images, the child turned and began to walk toward the horses before the father – having anticipated the danger – reached his child and held on as the racehorses passed. (In the second shot, they are now standing past the first set of footprints on the sand.)
This mixture of children and racehorses on a main public beach, on a public holiday weekend, is legally sanctioned by the Warrnambool City Council.
From March 1 to November 30, up to 96 racehorses a day, every day, can train along Lady Bay from dawn until 10am, irrespective of whether it is the middle of winter or a major public holiday weekend like that which just passed and saw hundreds of campers staying along the foreshore.
By 10am, many campers have been down to enjoy the beach, as you would expect. What they didn't expect, perhaps, is to be confronted by racehorses in flight.
This is nothing to do with supporting or not supporting horse racing, but instead an important issue around public safety where, it seems, the council and Warrnambool Racing Club are prepared to take extreme risks. These same risks would be unthinkable at a racecourse.
If you want a clear example of the dangers, watch the video below of an out-of-control racehorse belting along Lady Bay after throwing its rider. This footage was captured in July 2017.
There are rules in place for this strange, legalised game of Russian roulette between the general public and racehorse training, but they are being broken.
Already there have been four breaches recorded since training resumed at Lady Bay on March 1: less than a fortnight ago.
Two of those involved riding three abreast – as is happening in the first photos – with the maximum number of horses in any group set at two, with 50m between them.
Another was a rider training two horses at once, with a second, unidentifiable horse being pulled alongside. Another chose to ride in the soft sand, not the hard sand.
All of these actions are illegal under the rules set down by the WCC and WRC and they are the ones we know about because they have been recorded by the public.
To date, I have not seen one public report by the council or WRC on what breaches have occurred at Lady Bay since 2016 and what has been done about them. We just don't hear about it and we don't get told.
I sent several of these images to the council directly more than a week ago for comment on what happens in response to these incidents and have had no reply, other than to check what date the photos were taken. (Glad to be of help.)
A quick hashtag here – #notalltrainers – but there are repeat offenders who know the rules and, it appears, just don't care.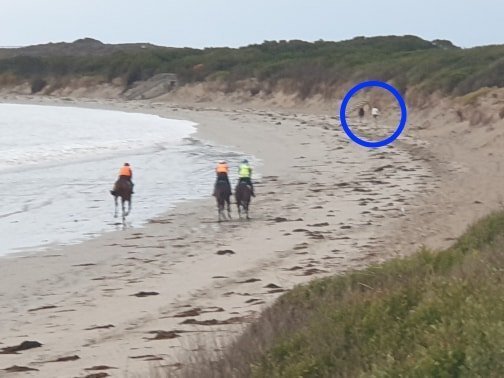 In the meantime, is it really the job of the public to police the racing industry at Warrnambool's main local beach?
If so, no wonder we are all justifiably sceptical that any rules will be followed at Levy's Beach, which is much further from the public eye, when dozens of racehorses are allowed to move in there later this year.
WorkSafe has a detailed set of guidelines for racehorse training safety at racecourses, but not public beaches. In the case of Lady Bay, which is clearly a "work site" between dawn and 10am, WorkSafe looks to the council and WRC to develop and enforce the rules. (Anyone with safety concerns at Lady Bay can also contact WorkSafe direct on 1800 136 089.)
Many locals are wondering how the public beach at Lady Bay transformed from a place where a few trainers gathered to run and swim their horses, to become a virtual extension of the Warrnambool racecourse, even though that same racecourse has had had millions spent since 2017 to upgrade its on-track facilities.

There was no environmental impact study, no public opinion survey, no broad consultation, no compelling research to justify the move – it just happened.
And, as a result, it is now permissible to have racehorses mixing with children at a beach at 8am, 9am – or whatever time it was – and for a child to no longer be able to run freely without the risk of being trampled.
This is not the beach of my Warrnambool childhood, but it is now, sadly, of theirs.
If you would like to see The Terrier keep digging up, sniffing out and chewing on local issues, please make a small contribution below.