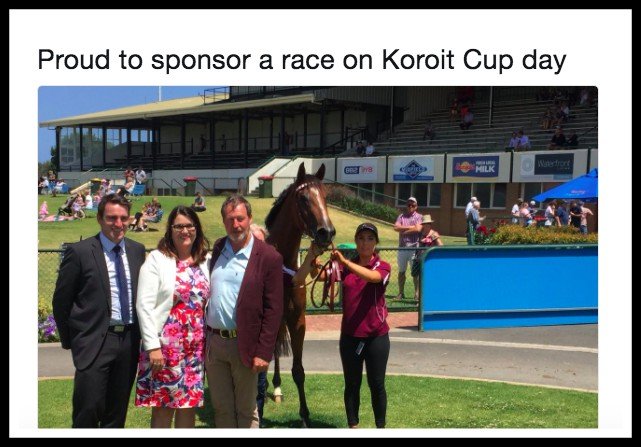 Carol Altmann – The Terrier
One of the many things that struck me while working through the plan to allow commercial racehorse training on our wild beaches is that all three of our local MPs – Dan Tehan, James Purcell and Roma Britnell – have strong ties to horse racing.
Federal MP Dan Tehan, although his office was oddly reluctant to make this clear, shares a very successful racehorse with the CEO of the Warrnambool Racing Club, Nick Rule, among others.
Independent MP James Purcell has an interest in numerous racehorses and his son is a professional trainer.
State Liberal MP Roma Britnell, who as far as I know doesn't own a racehorse, has a horse race named in her honour and holds a Warrnambool Racing Club membership.
Which of our local MPs, then, will argue that our beaches should not be used for racehorse training on an industrial scale?
Which of them will lobby to instead increase protection of the Belfast Coastal Reserve?
None of them.
Instead, all three of our local MPs have started from the point that we need to reach a "compromise", a "balance", a "give-and-take" on having thoroughbred racehorses pounding along sections of beach between Killarney and Warrnambool and up and down the dunes at Levy's Point.
Not one of them has said that large numbers of racehorses should not be in a coastal reserve in the first place.
At least Roma Britnell, in an email to me via her media advisor Jarrod Woolley, said she had "a number of concerns" about the draft management plan for the reserve.
When I asked what those concerns actually were, however, there was no more information forthcoming.
This is why documents released to the Belfast Coastal Reserve Action Group under Freedom of Information make for such a revealing – and depressing – read.
They spell out that commercial, large-scale racehorse training in the Belfast Coastal Reserve is virtually a fait accompli.
The correspondence between the various bodies involved in the draft plan never questions why racehorse training should be allowed, but how it will be managed.
At first I felt like giving up and not even bothering to write a submission. What was the point, the cards were already stacked, right?
But then it occurred to me that this is the very reason why other voices need to be heard, or those with the most power, the most access, and the most influence will simply roll right over the top with impunity.
We elect people to represent our views because we don't have the time to wade through reports, but this time, I am sorry to say, those of us who want to see this reserve preserved are on our own.
So please make the effort, either by filling out the online survey or emailing a submission, via this link: www.engage.vic.gov.au/belfast