Carol Altmann – The Terrier
A lot of people have asked me lately whether I was sued for defamation by Lyndoch Living CEO Doreen Power and if it all ended up in court.
The answers are: yes and no. Let me explain.
After I wrote a series of four stories late last year about my concerns around Lyndoch, its direction, and its leadership, I received a letter from Melbourne law firm K&L Gates, who represent Lyndoch Living.
(The Gates part, by the way, relates to the firm's founder, the father of US billionaire Bill Gates, so this was not some tin pot law joint with broken blinds and wonky lampshades, but a downtown Collins St law firm with city views and a serious letterhead.)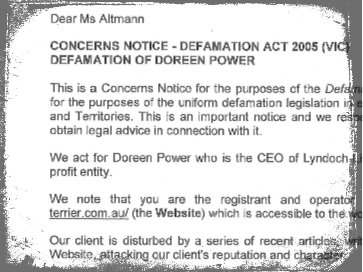 K&L Gates wrote that they were acting on behalf of the Lyndoch CEO who was:
"disturbed by a series of recent articles, written and published by you on (The Terrier), attacking our client's reputation and character".
Gulp.
Naturally, I felt slightly sick, but only slightly, because in 30 years' of working as a journalist in search of the ever-elusive truth, I have received one or two of these letters before. The scary bit was that I now work alone.
The letter then set out the CEO's particular grievances – or imputations.
You can download the whole letter here, it is not confidential, but here is the list:

That in carrying out her functions as CEO of Lyndoch, our client bullies and intimidates staff and other third parties;
That in carrying out her functions as CEO of Lyndoch, our client manipulates staff by psychological means into doubting their own sanity;
That in carrying out her functions as CEO of Lyndoch, our client unfairly favours some people over others;
That in carrying out her functions as CEO of Lyndoch, our client has caused a detrimental impact on the care of Lyndoch's residents;
That in carrying out her functions as CEO of Lyndoch, our client lacks transparency and endorses secrecy;
That in carrying out leadership roles as CEO of Seymour and Plenty Valley Community Health, our client destroyed the culture and workplace environment of those places, and caused irreparable physical and/or psychological harm to their staff;
That our client is a disinterested CEO who does not care about her staff or the residents of Lyndoch; and;
That our client is unfit to be the CEO of Lyndoch or of any other organisation.
Defamation law is an important law and one that I take extremely seriously.
It is there to protect all of us from malicious untruths, but it can also be used by powerful people to "chill" journalists from investigating or writing about issues of public interest.
Back in the days when journalists worked in robust newsrooms with bottomless budgets, such legal battles could be fought with vigour.
Those days are almost gone.
Now, like many journos out on their own, I have no newsroom and no budget for legal battles, and I rely entirely on insurance via my union, the Media Entertainment and Arts Alliance.
Like all journos, I also rely on thorough research and credible sources to get things right in the first place, but it is one thing to argue a fact like, "you have no money" compared to "why do you have no money?"
WHY is the very guts of investigative journalism, but it is time-consuming, expensive, and it attracts law suits. Many newsrooms have given up on it, but it is what I do.
So I got my legal letter, paid for by Lyndoch, which confirmed that the aged care home which once looked after my own Mum was now threatening to sue me.
This was serious and it's precisely why I waited until my Mum passed away last April before I started to write this current series of stories: as feisty as Mum was, she would have been worried sick.
Over the holiday period K&L Gates talked to my lawyers and vice versa. Letters were exchanged.
And in the end, my insurers decided not to fight the imputations, because who knows if I would win or lose in trying to prove the "why?"
I agreed to pull the stories from the website and remove them from Facebook and I cannot publish them again. I also agreed to pay costs.
All of this cost me $2000 in an insurance excess, but, because of you wonderful beings, it actually cost me $200, because Foxy the Fighting Fund kicked in and helped me to cover that excess.
Did it go to court? No.
Did The Terrier win or lose? I will leave that up to you to decide.
Is it important that we keep going? More than ever.
Defamation can be designed to "chill", and frighten journalists into tightening their buttocks, but you know what? I am being cautious, but also reaching for an extra coat.
If you are reading this and would like to support The Terrier, please throw something in the tip jar below.