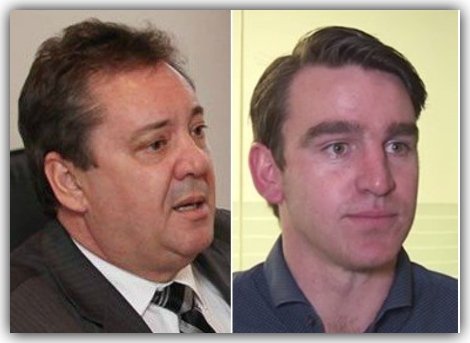 Carol Altmann – The Terrier
It's fascinating to see the conversations that go on behind the scenes between the powerful, like an exchange between the former CEO of the Warrnambool City Council, Bruce Anson, and the former CEO of the Warrnambool Racing Club, Peter Downs.
It is a brief exchange – and released only through Freedom of Information of course – but it says so much.
It reveals that Mr Downs met with Mr Anson on Thursday 8 February 2018 with a problem.
The problem was that racehorse training along a section of Port Fairy's East Beach was no longer possible because, wait for it, those pesky Hooded Plovers had turned up and made it "unworkable" for the racehorses.
But Mr Downs had an idea, which he put to Mr Anson in writing after their catch up: what about giving permission for 50 racehorses to use Lady Bay from Monday 12 February, from dawn until 8am?

Under the council rules, racehorse training at Lady Bay did not normally start until 1 March.
There is a very good reason for this, as Mr Downs acknowledges:  "We understand that there are other beach users using this area at this season of the year".
(That season of the year is called summer and funnily enough there are loads of "beach users" who like to use Warrnambool's main beach in summer.)
Not only did Mr Downs think having 50 racehorses training on Lady Bay in summer was a great idea, he also hoped the council could make it happen with just four days' turnaround from his meeting with Mr Anson.
How? Well, "a circular resolution via email" to councillors.
Excuse me?
No meeting of councillors? No discussion with the public? Not even a notice in the Saturday newspaper?

Was Mr Downs seriously suggesting the council could change the rules by flicking an email around to councillors for a "yes" or a "no"?
You would expect Mr Anson, as CEO, to have clutched his belly, laughed out loud and spluttered "Don't be so bloody ridiculous Peter!"
But no.
Mr Anson got straight on to it, to see if it could be done.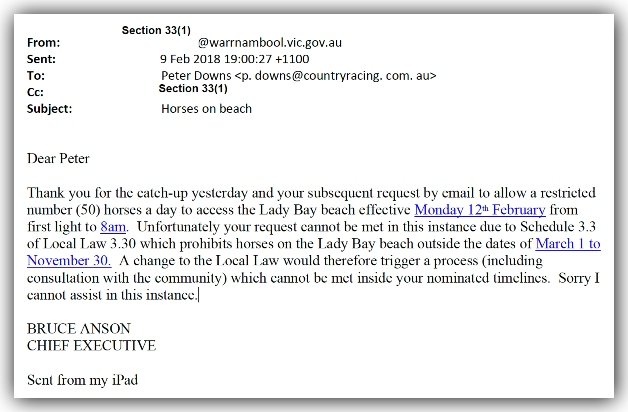 Within 24 hours Mr Anson had replied to Mr Downs, having done something that the council should have done when the WRC also wanted to access Levy's Beach for racehorse training – he checked the council laws.
Lo and behold, it is illegal under local laws to bend the rules around racehorse training at Lady Bay without consulting the public.
Who would have thought? Fancy not being able to change a local law via Snapchat or WhatsApp, how inconvenient.
"Sorry I cannot assist in this instance," Mr Anson wrote in his reply to Mr Downs via his ipad.

In this instance.

Ah, the power of three little words.
Mr Anson is no longer CEO, but the councillors are due to vote again on large-scale racehorse training at Levy's Beach/Spooky's Beach which, you may recall, was also found to be illegal under council laws and saw the Planning Minister step in to make it legal.
A sunset clause on the whole mess lapsed on 30 November last year, so each councillor will once again have to decide where they stand on the issue which continues to divide the community.
The first council meeting of the year is next Monday…and the election is in October.
Stay tuned.
The story would not have been possible without a grant from the Walkley Foundation Public Fund which supports investigative journalism.