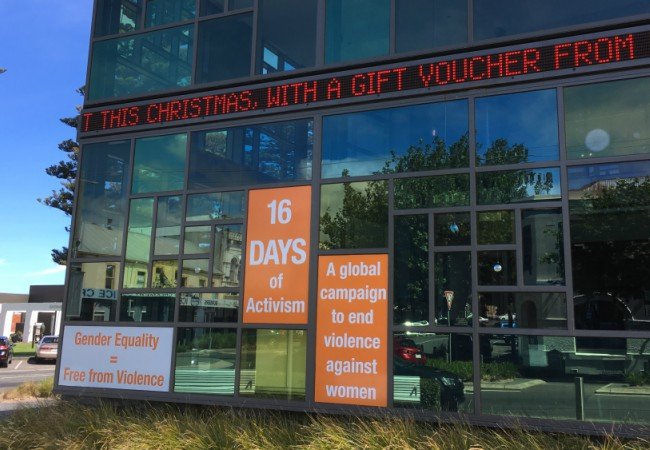 I met two unforgettable people last week while collecting signatures to erase the mural by sexual predator Rolf Harris at the Lighthouse Theatre in Warrnambool.
Both of them, one a man, the other a woman, were survivors of child sexual abuse and were, as they described it, "finding their voice" to talk about such a personal atrocity and do everything they could to ensure that no other child would suffer what they had.
They talked quietly, often looking into the middle distance, because the middle distance is a safe space when re-visiting a place of such hurt, such confusion and such silence.
The silence. The being told – constantly – that you must not say anything, that you must not cause trouble, that you must not ruin things, or make things uncomfortable for others by speaking up and out.
But as the man said to me, "you just want to be heard and for someone to do something".
He was doing something.
That very day as he signed the petition on a wobbly card table on the Civic Green, the Royal Commission into Institutional Responses to Child Sexual Abuse delivered its final report.
This was a devastating report that has been five years in the making and to which this man had given hours of evidence.
Despite having made a contribution to this highest level of investigation, this man still turned up during his lunch hour to sign a little petition to remove a small mural in Warrnambool because he is not done yet.
None of us should be done yet.
And this was how the woman who told me her story, a story she is only now starting to fully articulate, went from talking to me about why removing the Rolf Harris mural didn't really make a difference, to deciding that it did.
She had come to the Civic Green not to sign the petition, but to explain why she felt covering it up was enough.
We talked about the symbolism of covering things up, about the hard-to-hear argument of separating the sexual abuser from the person, and about this mural – this mural – being a chance for our council to follow the lead of others who painted over their Harris murals right after his conviction two years ago.
After 20 minutes or so she said "I am going to sign", and she did.
These are the strong faces I see in my mind when people roll out the arguments as to why the mural must stay.
"But Carol, where will it end?" they say.
Apparently if we erase a Rolf Harris mural in Warrnambool, soon we will be pulling down churches and trashing Caravaggios and banning people from watching films and throwing  all manner of books, artworks and music onto a giant pyre, because if we don't, well, we are being insincere and inconsistent.
Ironically, this fear-mongering and muddying of the waters is what the "yes" voters endured during the same-sex marriage debate.
A simple question – can two people of the same sex marry – descended into a frenzy about ending freedom of speech, people marrying goats, and children being taught in primary school how to use sex toys.
If you said yes to same sex marriage, you were saying yes to all these things too – get it?
Fortunately most of us in Warrnambool were smarter than that.
But we, as a city, own a Rolf Harris mural and it is through this mural we can again make and take a stand. We must make a choice. We either own it fully, and pull down that Perspex, or we roll over it as a symbolic gesture that we stand with survivors 100 per cent: not 50 per cent or 20 per cent.
"But Carol, where will it end?"
Well, I can tell you that for the survivors of predators like Rolf Harris, who use their power and position to abuse children, it never does.
And as the women and men now speaking out around the globe have shown, we are not done yet.
In fact we are just getting started.
The physical petition has closed with more than 100 signatures in five days, which was my goal. The online petition also closed on Wednesday 13/12 at 9am.

The petition will go to Warrnambool City Council for consideration at its first meeting for 2018 in February.