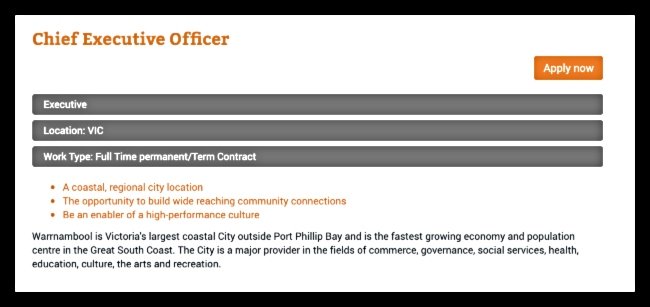 Carol Altmann – The Terrier
Will it be a new face, or an old face? The Warrnambool City Council recruitment of a new CEO has officially begun.
The  job advert has gone out, just four days before a Supreme Court hearing which will decide whether the former CEO, Peter Schneider, could get his old job back.
The advert was posted online yesterday by top local government recruitment firm, McArthur, with applications closing on 15 February.
On Monday, however, the judicial review into Mr Schneider's sacking begins and will sort out one way or the other whether he was denied natural justice when he was dumped by the former council in July last year.
If the judge rules in Mr Schneider 's favour, then the new council will have to decide whether they will rehire him.
No witnesses will be called for Monday's hearing, with a judge instead deciding the case on the written evidence and affidavits put before them.
We can only hope the judgment is made quickly, for the sake of Mr Schneider, the new councillors who inherited this mess, and the good people of Warrnambool, all of whom have been sitting in the equivalent of a Jetstar flight circling over and over the airport, unable to land because of turbulence.
I asked the council spokesman and Mayor Vicki Jellie today how the council could start advertising for a new CEO, when the former CEO is still yet to learn his fate?
The response was that, under the Local Government Act, the WCC is legally bound to get things moving and must "…make a permanent appointment to the position of Chief Executive Officer as soon as practicable after a vacancy in the position occurs".
"Given the then impending elections, and the intervening caretaker period, an earlier appointment was not a feasible option," the statement said.
But, the statement added, " the appointment of a CEO is a priority for the new councillors".
I bet it is.
The whole process from here will be overseen by the council's  CEO Employment Matters Committee, which will also have all new faces at the table, including Mayor Jellie, two councillors and an independent chair.
This chair is being recruited as we speak and will be in place after the 1 March council meeting.
Monday also marks the first council meeting for 2021 and, I feel, when the real work begins for this new council.
They have a lot to clean up: appointing a chief who can finally land that plane, get us all through customs, and get Warrnambool out into the fresh air is the first of them.
Only then can our city move on.