Analysis – Carol Altmann
Another irreplaceable piece of Warrnambool's urban landscape has been reduced to rubble without, it seems, a word of warning.
The well-known, pre-war apartment block at 259 Lava St (next to Aldi supermarket) was bulldozed last Tuesday (14/7), to make way for something which has not yet even been decided but which the owners, the Salvation Army, believes will better suit it needs.
Such was the swiftness of this particular demolition that nothing was salvaged, or offered free to others, so passersby watched in horror as window frames, glass panels, doors and fittings were broken up by a bulldozer and stuffed into waiting trucks.
It is enough to make you weep, and that's exactly how a Bluestone subscriber felt when she sent us a series of photos she had taken of the travesty.
We posted them on our Facebook page where, within a few hours, they were seen by more than 4000 people and sparked a robust discussion about how we should treat our old buildings, but the debate, of course, was all too late: this building is already gone.
And this was a special building.
We know this because the Warrnambool City Council's own heritage reports tell us so.
According to these reports, the apartments at 259 Lava St were one of only two examples of twin maisonettes in Warrnambool built in the "Interwar Moderne" design. This design was originally developed by one of Melbourne's most notable architects, Robert Demaine, and, in this case, adapted by Marsh Michaelson.
The only other example of such twin moderne buildings in Warrnambool was the side-by-side buildings of "Sandilands" at 1A Liebig St (the former Madden's building) and 1 Liebig St, known as Colern.
Sandilands, despite being recommended for heritage protection, was not protected but instead bulldozed earlier this year to make way for a nine-storey apartment block.
And Colern, despite being originally recommended for heritage protection, recently had that recommendation dropped. Why? Because without Sandilands, it has less architectural significance.
This logic means Colern could be bulldozed too.
Can you see what is happening here?
One domino falls and they all fall: from having three fine examples of moderne design, we could easily have none and those people, like Bluestone, who treasure the character of Warrnambool's urban landscape, are at a loss as to what to do about it.
Because as it stands, the "community consultation", if you can call it that, is simply not working.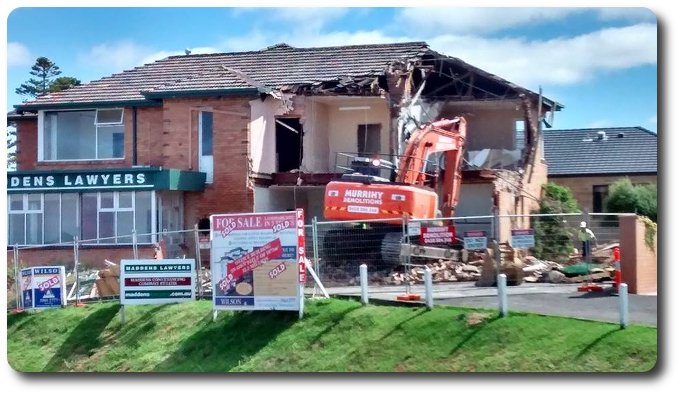 Nobody is arguing that every old building in Warrnambool needs to be saved, but at least some of the shock at seeing great chunks of our streetscape disappear might be lessened if we all had the chance to have a say.
Part of that process, of course, is also hearing in plain English why a building should go: is it beyond repair? Has it been condemned? Full of asbestos? Are there many other examples of that style around? Will something extraordinary or beautiful take its place?
At the moment we are left in the dark and, once a building is gone, it is left to rumour and speculation as to why.
The council can rightly argue that more information is out there, but it is up to you to find it, buried somewhere in council agendas, reports, minutes, special briefings and papers.
We here at Bluestone keep a relatively close eye on council happenings, and we did not see or hear a word about 259 Lava St being earmarked for demolition.
Cr Peter Hulin, who is currently overseas, made a Facebook comment that he, too, knew nothing – and he is on council!
If he doesn't know and we don't know, what hope does the everyday Warrnambool resident have?
Surely we can do better than this and surely we deserve better than this.
Even a simple listing on the council's website – "Demolition Applications" – would help.
(As it happens, Heritage Victoria held a forum in Warrnambool last Friday (17/7) to see how it could improve the 20-year-old Heritage Act.)
Built heritage is critical to a city's character – Port Fairy knows this well – and while Warrnambool is tearing its down, other cities are finding new ways to revitalise old factories, warehouses, shops and houses: especially those in a CBD, where they become highly sought after, and very cool, housing.
Warrnambool lawyer Luke Taylor is doing just this above 222 Timor St (Biba Hairdressing), which was a virtually derelict dump when be bought it, but the 1850s building will soon house two, gorgeous apartments and its renewal is helping to transform that section of Timor St.
My thinking is that we don't ever really "own" a building – we are merely custodians for a time – and if we are lucky enough to own a special piece of architecture, then it belongs both to us and the community.
Historian Jennifer Bantow also believed this. She was part of a passionate group of people who saved Murweh, the Fitzgerald's historic home at the north end of Liebig, from being bulldozed in the 80s.
When I last spoke to Jennifer, who now lives in Geelong, she asked me: "So, is Warrnambool still pulling down its old buildings, or has it finally 'got' it?"
Judging by the events of last week, the answer is clear.