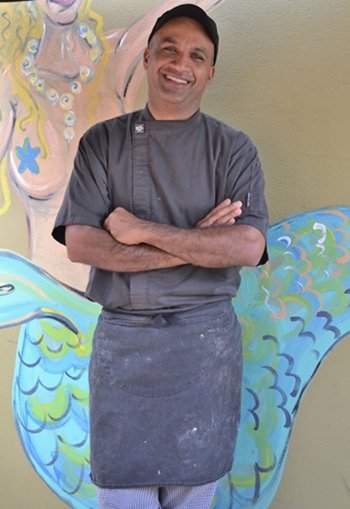 Most people know him for either his cricketing skills or his equally impressive cooking, but the story behind Jayaweera "Bundy" Bandara is also one of starting over to build a new life.
Bundy – who's full name is Ganegala Walawwe Jayaweera Bandara – has been living in Warrnambool for 18 years since relocating from his native Sri Lanka and has become the cheerful, energetic force behind the popular FishTales Cafe, in Liebig St, where he is manager and head chef.
Since moving to South-West Victoria, Bundy, 43,  has also established himself as one of the best cricketers in the region and was earlier this year named as the Warrnambool and District Cricket Association's Division 1 Cricketer of the Year for his consistent batting. (His batting average was 69.29.)
Cricket has been a driving force behind Bundy's life since playing the sport as a school boy in Colombo, Sri Lanka. His precocious talent saw him earmarked as a potential Sri Lankan test player and also gave him the opportunity to play in Australia.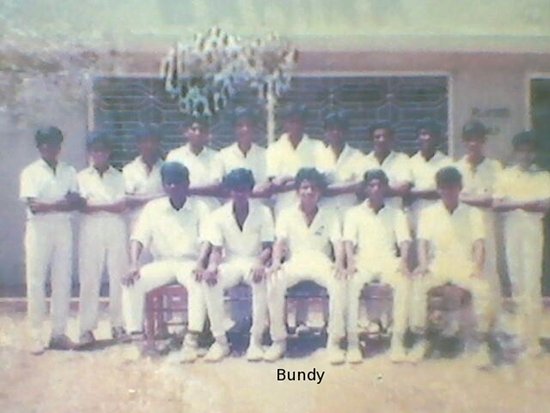 In his late teens, he was sponsored by the North Melbourne Cricket Club for the summer of 1989-90 and, the following year, he spent a season with the Footscray Cricket Club, where his team mates knew him as "Jaya".
"I would be in Australia for six months and then return home and play there," Bundy said.
Bundy's cricketing career peaked in the early 90s when he played first-class cricket – one level below test cricket – in Sri Lanka for almost six years.
"Many of the Sri Lankan test players were my playing mates – we had nine players from the test team," he said.
At the same time, Bundy was building a successful career off the field as a marketing executive with Bartleet Finance in Colombo.
Then, in the mid 90s, came one of those turning points in life when you decide to either keep following the familiar path, or try something completely different.
Having made some friends in Warrnambool during his cricketing trips to Australia, Bundy grew to love the city  – "it is so friendly, so lovely" – and so decided to accept a sponsorship to play for Dennington.
"I also decided to enrol in a cooking course at TAFE, because I wanted to become a chef," he said, smiling.
"My first job was right here (pointing to the floor at FishTales), washing dishes."
The former marketing executive and first class Sri Lankan cricketer found himself up to his elbows in soap suds, but it is this humility that has made Bundy such a well-loved person in his adopted home, where he is now very much one of the city's personalities.
He and his wife Kylie, whom he married in Warrnambool in 2000, run a Sri Lankan Community group that welcomes Sri Lankans who have moved to the area and organises cultural events throughout the year. The group has also been involved in fundraising activities for underprivileged children in Sri Lanka.
And then there are the famous "curry nights" that Bundy introduced to FishTales, where locals flock to try the delicious flavours of Sri Lanka.
"At first people were a little unsure about the curries, but they try them and they are very happy," he said, laughing.
The local cricketing scene is also smiling, but not because of Bundy's cuisine. Instead it is his son, Dominic (one of three children), who is already showing signs of being a champion batter.
"He has just been chosen for the Victorian Under 12 team – the only boy from this area – so we are very proud of that," Bundy said, saving his widest smile for last.