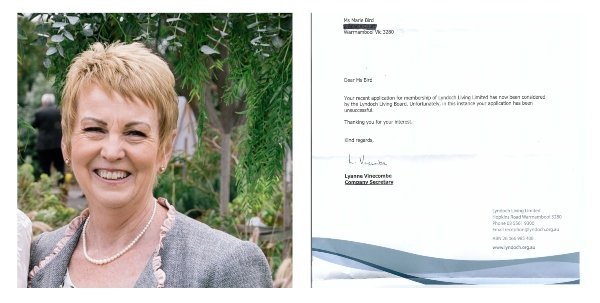 Carol Altmann – The Terrier
Meet Marie Bird, another highly skilled member of our community who has been locked out of joining Lyndoch Living.
Marie is among the 115 people who have been denied the right to become a simple member – not even a board member – of Lyndoch, our community owned aged care home.
Her application, like that of experienced nurse Kate Sloan who I wrote about last week, was rejected by the board without consideration or comment.
Let me tell you a little about Marie, who has lived in Warrnambool for 24 years.
She is a highly successful businesswoman (The Bird Group), a volunteer, philanthropist, a former member of various boards and committees, and currently the human resources director of her business involving the management of more than 500 staff.
On top of this, Marie has had personal experience in building community links with aged care.
In 1985, Marie set up an adult learning program in Port and South Melbourne that included close contact with the SouthPort Aged Care Community Nursing Home.
"The nursing home had an open door policy towards the community, resulting in some amazing opportunities for its residents," Marie told me.
Through her work as an Outreach Community Education Officer with Prahran TAFE, Marie introduced a program that allowed the nursing home residents – along with people, who for whatever reason, were housebound – to re-engage in learning.
"The strength of this program, which went on for many years after I left my job, came from the local community's involvement…which included the SouthPort Aged Care Nursing Home," Marie says.
"This experience has stayed with me for more than 30 years, so to think Lyndoch Living – who until recent times nurtured this model of operation – has now shut itself off from its community just saddens me no end, hence my desire to see Lyndoch remain as a community based facility."
In a normal world, Lyndoch would welcome Marie – with all of her skills and all of her business nous – as a member.
But no, Lyndoch doesn't do normal.
Her application, like all the others, was metaphorically dumped straight into the bin.
The board made this decision.
So why would Lyndoch chair Susan Cassidy, hairdresser and owner of Unisexcuts, reject Marie Bird?
Why did deputy chair Kerry Nelson, the former (now retired) CEO of MPower, think Marie was a bad choice?
And treasurer Kane Grant, who works for Sinclair & Wilson? What was his reasoning?
And retired Deakin University academic Prof Rob Wallis?
And former nurse educator Lorraine Milenik? What were her concerns?
And Ron Page, an operations manager with the Australian Dairy Farmers Corp?
And last, but not least, why would Andrew Paton, the Director of City Growth at Warrnambool City Council, reject the application of one of Warrnambool's leading businesswomen?
There are no explanations; the board can offer only silence.
The Lyndoch AGM will be held on 26 October and nominations to become a board member close two weeks prior.
There are two vacancies on the board and – personally – I would love to see Marie nominate for one of them, but she can't, because she is not a member, which is a pre-requisite.
In reality, nobody can nominate for the board, other than those 'tapped on the shoulder' by the existing board members.
For a community owned aged care home to behave in this way should be unacceptable.
And yet, it seems, those with the real power to challenge it, accept it.
I wonder what it will take for the charade to end?