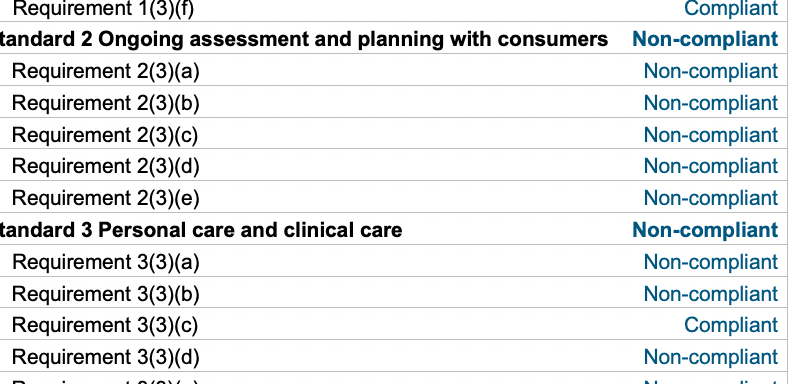 Carol Altmann – The Terrier
Exclusive
Lyndoch Living has failed seven of the eight quality standards for its May Noonan Centre in Terang, after an audit by the national aged care watchdog.
The audit by the Aged Care Quality and Safety Commission in April found Lyndoch was non-compliant in almost half of the 42 benchmarks that make up the eight national standards.
In one standard – ongoing assessment and planning with consumers – the May Noonan aged care home failed on all five out of five benchmarks.
The damning report – released online this week – found a string of shortfalls, including that "staff do not understand what constitutes chemical restraint and actions do not minimise the use of chemical restraint".
It also found the service "does not effectively manage high impact high prevalence risks including in relation to falls, medication, behavioural and weight management and urinary catheters."
The audit also found staff do not act in a timely manner to deterioration or changes to a resident's health.
In one example, a resident had been feeling unwell for several weeks and, despite documentation recording this and the resident's representative telling staff repeatedly, no action was taken until the resident became feverish.
Only then was the resident assessed by an external registered nurse and found to have urinary retention.
The assessment team also found some information available was out of date and/or incomplete;
instances of directives made by health professionals and not acted upon by staff;
handover information does not include risks;
charting, assessments and care plans were not consistent or current for all residents sampled.
Staff were friendly, gentle and caring, but – once again – the report reveals that there is simply not enough of them.
Staff shortages and qualifications were captured in this pithy summary: "the number and mix of members of the workforce does not enable the delivery and management of safe and quality care and services."
And this: "The Assessment Team found the service does not demonstrate staff have the knowledge to effectively perform their roles".
This report follows a similarly damning audit of the Lyndoch nursing home in Warrnambool, reported here in June, which found Lyndoch was non-compliant in three out of four key measures for resident care and staffing.
[From my search of the commission website, Lyndoch is the only aged care home in Warrnambool and Port Fairy to have been found non-compliant in multiple areas.]
Lyndoch Living bought the 40-bed May Noonan hostel in late 2018.
At that time, it had passed accreditation by meeting all 44 of the 44 requirements and was due for reaccreditation in July 2021.
This has now been deferred by the commission until next January due to Covid-19.
This latest report says Lyndoch appointed a new manager to May Noonan in March and that many of the issues were now being addressed, including an audit of all residents, however the assessor determined that because this remedial action was "still in progress", the home remained in breach.
[You can download the full report here]