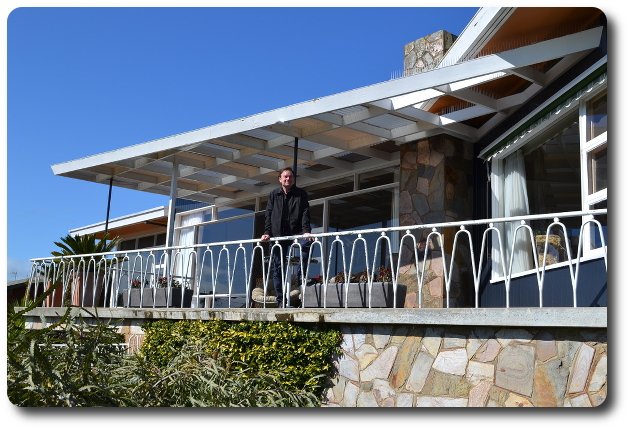 Bluestone columnist and architect CLINTON KRAUSE previously worked in Daylesford before relocating his business to Warrnambool. Clinton explores the retro styles that gives our region so much character.
I have just celebrated the first anniversary of my foray into the world of online journalism with Bluestone Magazine and to mark the occasion, I thought I would go back to where it began and recap on a remarkable year of mid-century finds.
With a fascination for the abundant stock of mid-century homes across the south-west coast, I hatched a cunning plan in late 2014 that would not only allow me to further indulge in my love of  'house cruisin' but would also provide a compelling modus operandi to make contact with the owners of these retro gems and even gain a glimpse beyond the front door!
Of course it only seemed fair that I start with on our own home, given I was about to impose myself upon other unsuspecting homeowners…
The "expose" on the Krause House proved to be a much bigger hit than I imagined, with many readers commenting that they knew this house from either a connection with the original owner's (the Downie's) or because of its striking street presence.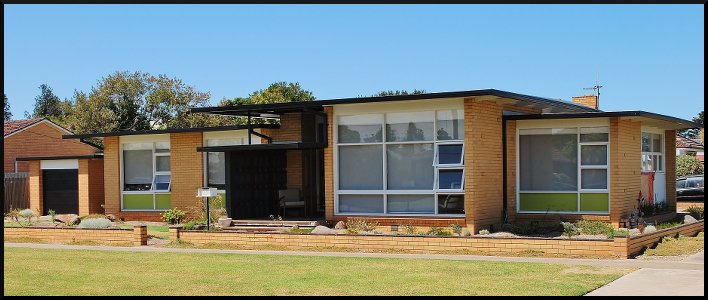 With such positive feedback from Bluestone and healthy audience numbers, I decided to jump in the deep end with a forensic investigation into the history of local architectural identity Tag Walter.
Tag's influence in the mid 50's thru to late 60's on the region's architectural landscape is indisputable and with assistance from sources such as the local history museum, and contact with his daughter Robin I was able to uncover both the professional and personal achievements of this well-respected local.
As good fortune would have it, I would visit a number of Tag Walter designed homes during the year, but meeting the Murphy family and visiting their Walter-designed house in Port Fairy was a highlight for me.
Both Liam and Jo are both keen ' retro revivalists ' and worthy custodians of this 'little retro ripper ' but it was Liams  forensic  restoration of the period wallpaper following a mishap with baby Charlie that will always remain in my mind and reassure me that this house is in good hands.

In early 2015 we took a detour from local design into 'Googie Groove' and highlighted the influence this flamboyant style has had on some of the local architectural icons of  Warrnambool.
With references to the Jetsons, John Lautner and the Googie Style indicators, Bluestone readers were now well equipped to converse on the subject at any posh gallery launch, haute coutre show, or gala opening – should the occasion arise!
A visit to the wonderful Herbert's home in February demonstrated how a well-designed Tag Walter home could be fine tuned to become a stylish contemporary residence with all the facilities, flair and flexibility of a modern equivalent.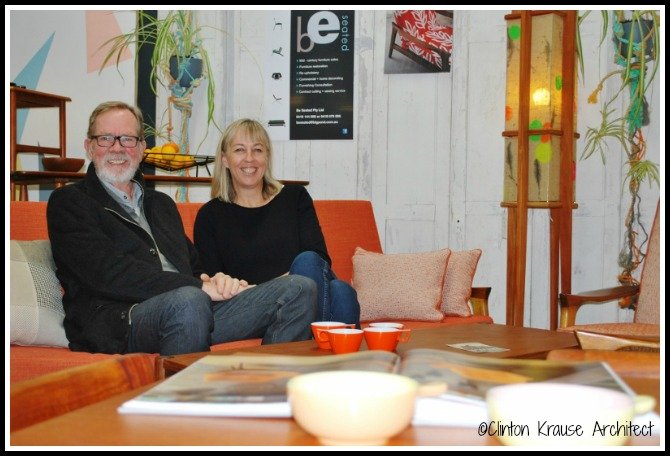 [dropcap style="font-size: 60px; color: #DC943C;"]W[/dropcap]anting to mix things up a little, I devised a two-part road tour that was really just a ruse to drive around town is some of Harry Drostes'  fabulous classic cars.
Harry provided some enjoyable anecdotes about his working relationship as a cabinet maker for Tag Walter and our itinerary also covered some buildings that I plan to return to at some stage in the future.
My visit to Helen's quirky renovated home in Japan Street was a real delight. I will never forget coming across Marilyn Monroe in her bathroom or the revelation that the wardrobe walls were lined with kaleidoscope patterns of printed shoes (look closely and you will see them).
But it was a trip to Portland to the home and business of 'Be Seated' couple Jack Van Roo and Megan Jarrett where I felt like I had hit the motherlode! Not only a great 60's home filled with fabulous retro furniture, but a business focussing on the renovation, restoration and repurposing of all sorts of mid-century décor.
I can hardly bring myself to mention those fantastic original Featherstone chairs and how much they were bought for – I still weep when I think of it……
Discovering Golsworthy's Hardware Store in Mortlake brought home the sad reality of many of these buildings that are now past their glory days.
With the uncertainties of changing ownership, declining demographies and shifting retail habits, I hope that buildings like this one will find a new lease of life in the hands of an innovative respectful entrepreneur.
Having traversed quite a bit of the country-side, for the September column I decided to stroll a few doors down from my own house to the 'Bluestone headquarters' staffed by Carol Altmann and Louise North.
As a touchstone for all things arty and tasteful, it is no wonder that the Bluestone home, like the magazine, is a cornucopia of the stylish, creative, eyecatching  and slightly off centre!  Over tea and biscuits we reminisced about the 'good ole days' and really showed our age.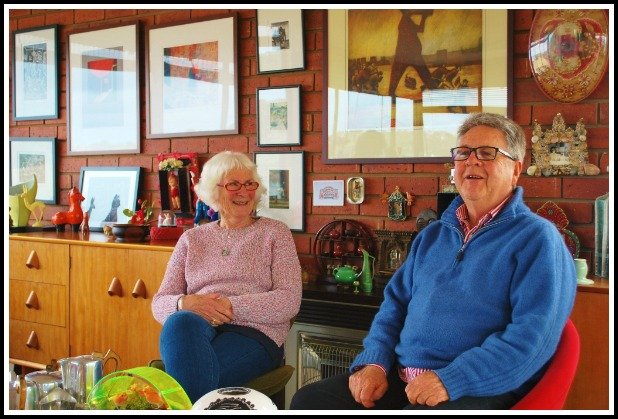 My last article for the year was a cautionary tale for readers…
Seeking an understanding of  what can lie ahead for the avid retro enthusiast, I was directed me to the amazing home of Tony and Claire Drylie. While I personally found their myriad collections of all things wonderful, whimsical and ' wayout-there ' inspiring , be warned – once you develop an eye for the creative, unusual, or even strange, it is only a short step towards complete surrender.
And so with the year drawing to a close, I would like to sincerely thank all those who generously offered up their home, time and privacy and allowed both myself and the Bluestone readers an insight into the wonderful places and people that are the heart of our community here in the south-west.
I have loved writing for you this year and look forward to bringing you more architectural exclusives in 2016.
Merry Xmas
Clinton