The Terrier
A little statistic popped out of Parks Victoria about six weeks ago that should have had us all gasping and wondering what we are doing wrong in Warrnambool.
"A record daily peak of 11,000 national and international visitors made the trip to the Twelve Apostles during Chinese New Year celebrations".
Please read that again, because it took me at least three reads to believe what I was reading: a record daily peak of 11,000 national and international visitors visited the Twelve Apostles during Chinese New Year (between January 28 and February 15) this year.
This was a 30% increase on last year. Thirty per cent!
And this is all happening less than an hour from Warrnambool – 72.7km down the road – yet we are seeing so little of the action here.
Why??
This is not a new question.
Over the years there has been much head-scratching, hours of discussion and piles of reports on how to encourage this lucrative market of cashed-up, eager travellers to travel just one more hour down the road to Warrnambool where, we would hope, they stay for more than 24 hours rather than passing through on their way to somewhere else, or turning around and travelling back to Melbourne.
To me, the answer starts here: give them something irresistible, something that they haven't already seen or heard during their trek down the most popular coastal road in Australia.
And what might that be?
To me, the answer starts here: our incredible indigenous story.
I don't know about you, but whenever I travel overseas, I can't wait to immerse myself in the indigenous history, to read about it, see it and experience it through a tour, a trek, a talk, a meal or a spontaneous, random encounter.
Here in the south-west, and right here in Warrnambool, we are sitting on some of the richest indigenous stories in Australia, creating a natural 'trail' from Moyjil/Point Richie, to Tower Hill and out to Budj Bim (Mt Eccles/Lake Condah) near Heywood.
Budj Bim is on the cusp of a UNESCO World Heritage listing partly because of its stone eel traps that are 1500 years older than the Pyramids or Stonehenge.
And Moyjil, apart from being a geological wonder, has been a site of human occupation for at least 35,000 years and, pending the results of ongoing tests, could also be the oldest site of human habitation anywhere on the planet, dating back 80,000 years.
Why are we not celebrating and promoting this far and wide?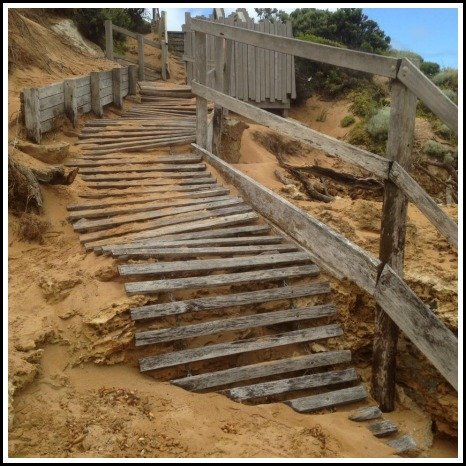 Tower Hill, meanwhile, is where Great Ocean Roaders can see a koala, emu or a kangaroo while also learning about indigenous culture, but its full potential as a tourist attraction is far from realised, starting with the poorly signposted, pot-holed and dangerous entrance that must be the worst of any tourism attraction in Victoria.
To be fair, progress is being made at each of these sites to promote its significance (especially Budj Bim) and plans have been drawn up to manage their futures, but I cannot find any coordinated effort to promote the three locations as a not-to-be-missed tourism experience that would, in turn, create jobs and boost our local economy.
There is no single, one-stop-shop to find out about what should be a cultural and environmental gem of a self-guided tour: there is no one map, brochure, website, or app.
Try it yourself: visit the Visit Warrnambool website, click on "what to see and do" and see what you find.
The top listings alternate, but when I clicked, the first item was mini golf.
But back to Moyjil for a moment.
A 24-page conservation and management plan for this area was published in 2013, setting out how it should be cared for by the State Government (which owns it) and Warrnambool City Council (which manages it) but, four years on, there are worrying signs about the financial commitment needed to look after this precious piece of coast.
The western walkway from the carpark fell apart in early December last year, just before the start of the peak tourism season, and access to the beach was blocked.
It is now late April and the walkway is still busted although now, of course, there has been five months' of people making their own path down the side of the walkway, as we do, and the erosion is obvious.
When it will be fixed, nobody knows.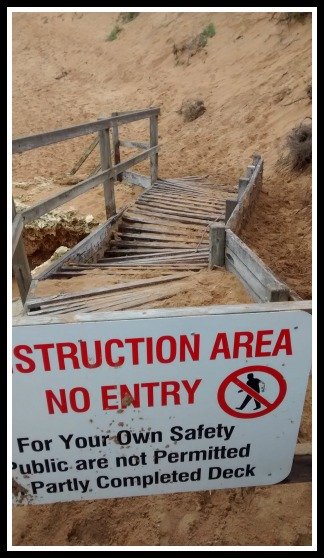 I contacted the state Environment Minister Lily D'Ambrosio and her spokesman said the council had applied last year for a slice of $730,000 in funding to fix the walkway as one of several work projects it had planned for the site.
It was not successful. (The $730,000 fund received applications totalling more than $3.1 million).
"DELWP is willing to look at how it can support Warrnambool City Council in fixing this walkway, and will discuss with Council how the department can assist," he wrote.
I asked the council for its take on the situation and its spokesman said: "We will continue to seek funding from the State Government for maintenance. It will also be part of Council's upcoming budget deliberations."
And that was it. No passion. No prioritising. No real sense of urgency.
I can only wonder when a wooden walkway – a walkway – can't be fixed (Triton woodworkers + youth unemployment project?), what the long-term future really holds for this magnificent site.
And in the meantime, the vast majority of the tens of thousands of tourists who are travelling to the Twelve Apostles each summer just turn around – or keep driving….