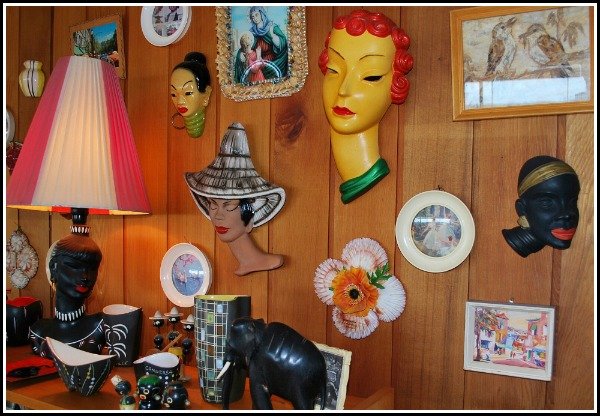 ARCHIVED
Bluestone columnist and architect CLINTON KRAUSE previously worked in Daylesford before relocating his business to Warrnambool. Clinton explores the retro styles that gives our region so much character.
With family roots going back to the settlement of Port Fairy and a long association with retailing in the region, Claire and Tony Drylie are well known throughout the district.
Claire's emergence as an artist has also brought her work to the attention of our arts community and her intriguing dioramas assembled from religious iconography, retro kitsch and other plastic flotsam and jetsam also just happen to provide a hint of the private lives of this dynamic couple.
I recall my first visit to their home as a visual feast of colour, chaos and clutter that nearly threatened to overwhelm the senses.
It is as if Tony and Claire are actually residing within one of Claire's complex art assemblages.
An extensive collection of pottery, retro furniture and art sits cheek-to-cheek with the ephemera of kitsch tourism souvenirs, plastic dolls and other miniatures.
Grouped collections of hats, pottery, clocks, genie bottles, cats, Madonnas, donkeys, lamps, ice buckets, and tea sets occupy every available nook and cranny.
The mayhem extends out into the garden where a mob of concrete kangaroos greet you at the entry, metal work sculptures adorn every wall, and pots of every size and colour contain curiously shaped cacti and other exotic plants.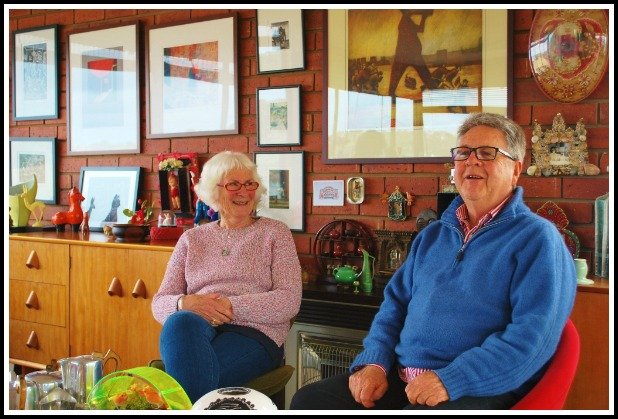 To say that 'Tony and Claire "like to collect" is an understatement and I set about uncovering the origins of this passion.
"It started with a pot in Tasmania," reveals Claire.
Knowing nothing about Australian pottery at the time, she was captivated by the strong colours of the glaze and the unusual soft and rounded form.
Further research lead to an appreciation and interest in Australian pottery which sparked the pursuit of unusual, quirky and interesting pieces.
This lead to regular visits to local auctions and garage sales throughout the southwest, where the couple's interest expanded to other areas such as retro furniture, wall art, ceramics and anything that had a certain style or quality of design.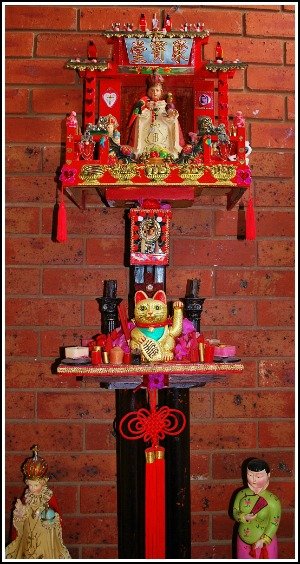 Claire's artistic eye for great design and a bargain was put to good use when she started selling pieces at a small stall in the Drill Hall at Port Fairy.
Whilst hugely popular with the buyers, Claires mix of retro, kitsch and shabby was at odds with the "serious and staid"  antique collections of the other stallholders and when a chance came to open her own shop back in Warrnambool, the couple jumped at it.
With Tony out the back restoring timber furniture and Claire filling the walls of the commodious space in Fairy Street, their business 'Alternative Antiques' became a must-visit destination amongst tourists and locals alike.
Fast forward to 2010 and with the couple having kept the supply and restoration of  inventory going for well over 10 years, it was time to move on.
The shop had become such an institution that Claire recalls loyal clientele actually getting a bit "bolshy" and emotional when told that the couple were winding down.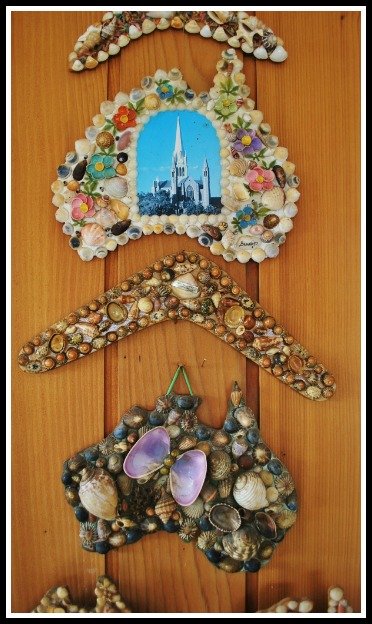 During the years of the business, a vast repository began to accumulate – a common practice at most auctions is to offer the best pieces thrown in together with 'job lots' of items that are impossible to sell.
Claire's boundless creative energy found a use for all this detritus and she began to experiment with boxed dioramas of religious items, small scale figures and other items that, when assembled, create a narrative for the viewer to explore and interpret.
She is now establishing herself as an artist with the ongoing exploration and evolution of these unique installation pieces and was awarded the runner up prize at the inaugural Southwest International Women's Day Art Prize in 2015.
This knack for arrangement has been given full flight in the styling of their home and the walls are adorned with montages and groupings of both themed and disparate objects which all seem to come together in a visually pleasing symphony of colour, form and wit.
Oh, and the story of the shell dolly?
Well, there was a girl down the road who had the most beautiful doll young Claire had seen and despite insistent pleas to her mother, it was dismissed as being far too kitsch and common to be bestowed as a gift.
All is good now though, because Claire has a whole shelf of shell dollies, and shell boomerangs, and souvenirs, and hats, figurines, seats, vases, masks, radios, lamps, pots , prints, cushions, caravans, clocks, tea sets, dinnerware, ice buckets, robots…………………………………………