By Lee Nicholson
[dropcap style="font-size: 35px; color: #8cc7d0;"] C [/dropcap]lose your eyes for just a moment. Is everything silent?
No?
Is that inner voice chattering away, not letting you get any mental peace and quiet?
Maybe you quietly yearn for that internal voice to be silenced?
Be careful what you wish for.
It was exactly this time a year ago that the internal chatter stopped for me and everything went quiet … and it nearly killed me.
That mental silence, that inner voice shutting down, was just one symptom of Australia's second biggest killer: strokes.
At just 47 years of age, I have suffered and survived a stroke.
A clot had formed, probably in my heart, and travelled through my arteries to my brain, got caught and starved my brain of oxygen.
I went down so quickly that I didn't even have time to put my hands out to break my fall as I made a coffee in my kitchen.
Life, as I had known it, changed in that split second.
For people who survive a stroke in the Warrnambool district you are bound to come in contact with Pat Groot.
As South West Healthcare's stroke liaison clinical nurse consultant, Groot is the expert who at some stage will help you trawl through your near-death experience, help you make some sense of what you have gone through and understand your new 'normal'.
"People like to know 'what could I have done that would have prevented this'," Groot says.
"There's a lot of soul searching because people would have liked to have avoided stroke altogether, perhaps never become acquainted with it, but they're here and sometimes they're not really sure why."
When I was felled by an embolic stroke, I just didn't believe it: the thought that I was "having a stroke" was inconceivable.
I was violently ill. My right side couldn't move and I couldn't walk. I had to drag myself to my bed and lay there amid the agony of the very worst of headaches.
As crazy as it might sound, I took 24 hours to seek help because I didn't have the 'classic' signs of stroke, in other words, my face hadn't fallen.
The area the stroke took out affected the part of the brain that controls my balance, speech and writing – all of my fine motor skills – and, of course, decision making.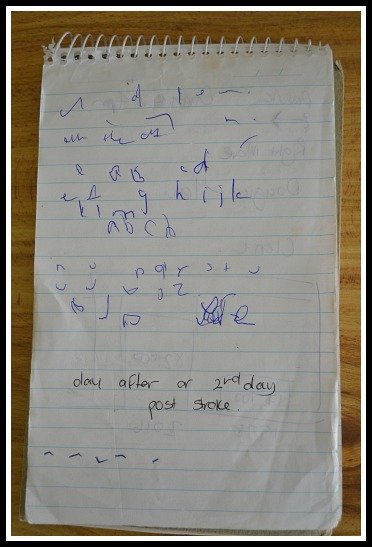 [dropcap style="font-size: 35px; color: #8cc7d0;"] I [/dropcap]
was unable to work as a journalist and I had to resign from a job I was enjoying as a business editor in Adelaide. My life was now about trying to relearn all of the movements that I had taken for granted.
Walking, talking, balance, eating, typing, writing, drawing, driving. You name it, every action I did since I was born and was second nature, I had to learn to do again.
The fatigue. You have a stroke and it feels like someone has disconnected your batteries.
That two, three, four or five kilometres you used to be able to casually walk? Forget it.
You will be knackered just getting out of the armchair back to your bed to sleep for 20 hours.
Despite my delay in seeking treatment, I am one of the lucky ones and, fortunately, I have almost made a full recovery.
According to the latest figures from the Australian Stroke Foundation, stroke is the country's second biggest killer and a leading cause of disability.
The financial cost of stroke in Australia is estimated to be about $5 billion each year.
Stroke kills more women than breast cancer and more men than prostate cancer.
"You see other conditions which seem to be, for want of a better word, sexier," Groot explains.
"Stroke continually fails to attract the attention of funders.
"We know if there was money directed at it we could reduce the instance of stroke by making people aware of the risk factors."
In 2015, funding for stroke research through the National Health and Medical Research Council represented just 4.1 per cent of the total investment in medical research.
The foundation predicts that this year there will be more than 55,000 new and recurrent strokes or 1000 strokes every week: that's one stroke every 10 minutes somewhere in Australia.
Around a third of all stroke survivors are of working age, or under the age of 65.
This year there will be more than 470,000 people living with the effects of stroke. This is predicted to increase to 709,000 by 2032.
After a stroke, 65 per cent of survivors have to live with a disability which prevents them carrying out daily living activities unassisted.
"The number of people who die within six months of a stroke is fairly high … about 12 per cent," Groot says.
He adds a stroke is a symptom of our 21st century lifestyle.
"The truth is we've become more sedentary, our diets have become worse, we perhaps drink too much and people who smoke are twice as high risk than those who don't."
Developed in the United Kingdom, the FAST test is an easy way to recognise and remember the signs of stroke.
FAST involves asking these simple questions:
Face – Check their face. Has their mouth drooped?
Arm – Can they lift both arms?
Speech – Is their speech slurred? Do they understand you?
Time – Time is critical. If you see any of these signs, call 000 straight away.
"When it comes down to it there is so much more we have to learn about stroke, more research that needs to be conducted for us to talk with authority," Groot says.
Groot urges people who think that they might be having a stroke to act on the side of caution and seek medical help.
"If it turns out to be a stroke mimic, that's not bad, that's a good outcome. But if we've intervened in time … that's a good thing.
"You could be one of those statistics that could be affected due to stroke and not everyone makes a good recovery."
For more information on the facts and figures, click here.
[box]Victoria
Stroke Association of Victoria: (03) 9670 1117 local call 1300 434 233.
New South Wales
Stroke Recovery Association of NSW: (02) 9807 6422 local call 1300 650 594.
South Australia
Stroke SA Inc: (08) 8352 4644.
Call StrokeLine for free information and advice. 1800 STROKE (787 653)[/box]