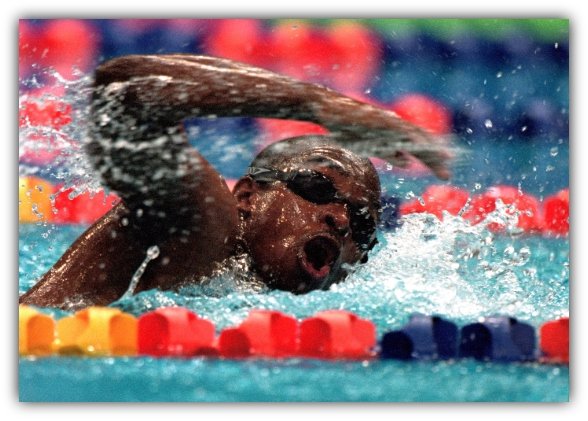 Carol Altmann – The Terrier
There's something very "Eric the Eel" about how well the smaller councils are keeping afloat during the financial fallout of Covid 19.
Do you remember Eric (pictured)? He was an athlete from that great swimming nation of Equatorial Guinea…ahem….and therefore the one least likely to out-swim his fellow competitors in the 100m freestyle heats at the Sydney Olympics.
But – against all odds and with some good luck – he slogged through and won the day.
I feel like I am watching Eric in action when I read that both Corangamite Shire and Moyne Shire are planning a zero per cent rate rise next financial year.
This means nought, nada, nothing will be added to the rate in the dollar amount from this year.
Warrnambool City Council, which has double the population and double the budget, has been kind enough to defer its 4.5 per cent rates wallop for a year and offer us "only" a two per cent hike.
How kind. No wonder almost 200 people have reportedly already applied for help.
WCC expects a total budget of $76.6 million to spend next financial year.
Compared to the "Erics", Warrnambool is the Ian Thorpe in the public pool: Corangamite will have a total of $49 million to spend and Moyne just a smidge less.
And yet….
And yet Corangamite will spend $14 million on building works, while WCC will spend $18.5m: not that much higher. Moyne will spend $18.1m.
Corangamite expects to record a deficit of just $120,000.

WCC is looking at a deficit of $1.5 million.

And Moyne, just to be totally "Eric", expects a surplus – a surplus – of $800k.

But here is the real clincher: while the WCC is putting off staff to save money, Corangamite is hiring staff as part of a $5.2 million C19 recovery package.

A $5.2 million package and hiring? How on earth does it do it?
What Corangamite and a lot of other councils did was apply to the State Govt for a thing called the Working for Victoria Grants and it received a sweet $2.3 million smackeroos.
This has allowed Corangamite to create 45 temporary jobs over the next six months. Brilliant move.
WCC has announced a $1.9 million C19 recovery package – less than half of Corangamite – and there has not been a single word about any hirings.
I was going to ask the WCC whether it had applied for a Working for Victoria Grant, but I learned the W'bool Ratepayers' Association got in before me and has already asked this question.
They have allowed me to share the response from our CEO:
"WCC put in an initial expression of interest and are still working with the fund managers.
No decisions have been made by them and no timeline has been provided on the outcome."
Uh oh. This gives me a sinking feeling.
I have this terrible sense that when the starter's gun went off – "go, go, go!" – we were left standing on the blocks.
In the meantime, Eric – little Eric – has just tumble turned and is well and truly into the second lap.