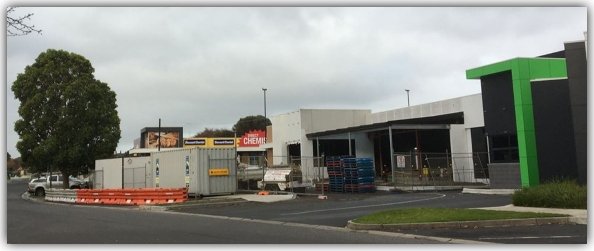 Carol Altmann – The Terrier
Is this Warrnambool's ugliest building site?
I had no idea, until last night's Warrnambool City Council meeting, that the poor residents of Hayley Drive, near Northpoint shopping centre on Mortlake Rd, have been looking at this stunning vista of a half-finished building for years.
In fact the planning process for what was going to be a "licensed restaurant" at the back of the bottle shop started in 2006.
That is four councils ago.
Since then the plan has been back to the council eight times for extensions and amendments and more extensions, as the "licensed restaurant" changed and morphed and popped out at the council meeting last night as the Northpoint Hotel, complete with a bar, a bistro and a TAB.
Some residents have had to object EIGHT times to the same project.
One elderly objector, now aged 89 (she was in Year 12 when the project started…okay, maybe not quite, but you get my point), said she always feared the restaurant would morph into a hotel. It looks like she was absolutely right.
I have come to the highly scientific conclusion that the planning laws – local and state – really suck.
How can a project come back to a council eight times over 14 years? How can a building sit half finished for years?
How can prime old Warrnambool buildings be demolished, and their blocks of land sit empty for years and years as what was an "urgent" project becomes suddenly not so urgent?
And why do the goal posts keep moving, so that a licensed restaurant becomes a hotel?
Cr Sue Cassidy was among the councillors last night who were not happy with that change and moved – successfully as part of the planning approval – that the word "hotel" not be used in any signage.
The goal posts must not keep moving, Cr Cassidy said.
I am personally delighted to hear this, as my little street is about to do a David and Goliath by challenging the whiz bang Lyndoch Medical Clinic that was approved in 2017 , "amended" in February this year and approved again last month.
This "amendment" has seen the project double in size. Cr Cassidy, as we know, is both a director of the Lyndoch Medical Clinic and a Lyndoch board member.
From what Cr Cassidy said last night, it looks like my street can count on her support when it rolls onto VCAT.
That is another whole story, for another day.