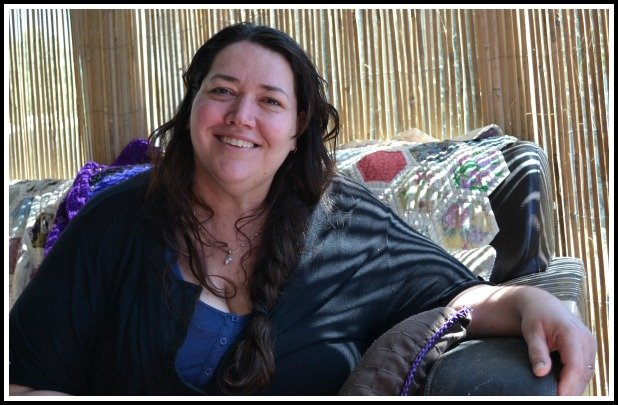 By Carol Altmann
[dropcap style="font-size: 35px; color: #8cc7d0;"] W [/dropcap]
hen I last saw Leah Potter about 14 years ago, she was standing 6ft 5″ in heels, wearing black lace, and gripping a whip in readiness for a bondage and discipline night in the wilds of Tasmania.
You may want to read that first sentence again.
At that time – and it feels like a lifetime ago – Leah became an international media sensation overnight after placing a $25 classified ad in the Hobart Mercury saying something like:
"Fetish weekend. Chalet. Discrete."
The chalet was part of Tarraleah, a former and largely abandoned Hydro town in the Tasmanian central highlands, a place known for its isolation and freezing winters, rather than raunchy romps in light underwear.
"I knew what was going on in Tasmania and the various things that people were into – they can pretend all they like, but I knew," Leah recalls with a rolling laugh.
Leah came up with the idea of the B&D weekend to boost the meagre income she and her partner Jason were making as lessees of the chalet which, in 2002, sometimes saw only two people a week stop for a beer. (The entire town of Tarraleah was up for sale last year for $11 million: my, how times change.)
Such was the success of her promotion, "Leah from Tarraleah" was soon fielding calls from Channel 7, The Australian, and the BBC – and featured in a book I wrote about Tasmania, Four Seasons with a Grumpy Goat (Allen & Unwin).
While Leah was an unforgettable character, I never expected to see her again, especially after I returned to Tarreleah several years later and learned she and Jason had moved to Darwin.
It was something of a shock then, when Leah recently sent me a Facebook message, saying she had read my book and that she and Jason were now living in Penshurst. Penshurst!
We had to meet and this time I met not "Leah from Tarraleah", but Leah Potter, and she is also an unforgettable woman.
At 47, Leah is in a space where she can reflect upon – but not regret – all that she has done to survive what has been at times a heartbreaking and challenging past.
It is a story that spins from her escaping her violent father as a teenager, becoming pregnant at 17 and moving through a series of bad relationships that saw her drift in and around the back roads and small towns of Australia like a tumbleweed.
"I remember leaving the Northern Territory with seven cents in my pocket, that was it, and I had a young baby. I drove to this town in outback Queensland and went into a pub, and there was just one guy sitting at the bar, so I asked him 'is there any work in this town?'," Leah says.
"He said, 'can you drive a tractor?' And I said, 'no, but I can learn.' He then says, 'can you shear a sheep?' 'No, but I can learn." And finally he says, 'well can you ride a horse?' and my eyes popped open, because yes, I could ride a horse!"
It sounds like a "walked into a bar" joke, but it was the beginning of Leah's new life, where she spent more than two years learning from the farmer how to muster, shear, crop…and drive a tractor.
And then this happened: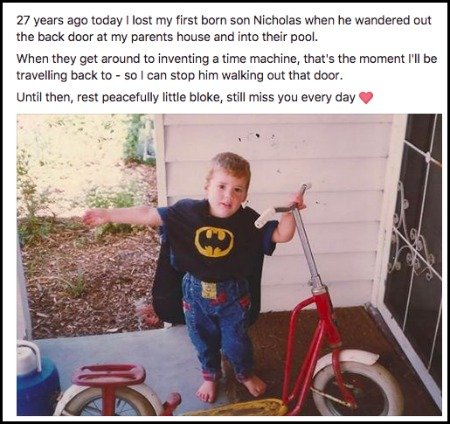 [dropcap style="font-size: 35px; color: #8cc7d0;"] H [/dropcap] ow do you recover from the loss of a child?
Well, of course, you don't. As anyone who has lost somebody they love knows, you just try to learn to live around the gaping hole.
For Leah, that has meant grabbing every opportunity that has come her way, taking chances, and keeping her heart and mind wide open to embrace those who, like herself, live on the margins.
She speaks eloquently and passionately about the many things that now occupy her time: raising her two children with Jason, a new found love of painting, and her forensic interest in the indigenous history and brutal white settlement of the south-west that has led to her self-publishing a book, Safe Country.
There is also the phenomenal success of the local "Buy, Sell and Swap" groups that Leah started on Facebook that, collectively, have more than 100,000 members across south-west Victoria, and the couple of Airbnb cottages she and Jason run in Penshurst, where they moved because they could buy three houses for the cost of one in Darwin.
And while her health has not been good – a metabolic disorder has caused major weight gain and requires surgery – she refuses to focus on the negative: survivors don't do that.
"Everything I go through, I think, 'this is something else I can write about to share with other people'," Leah explains.
"Every day I am grateful for my life and for living in Australia; we should all be grateful for that."
As if on cue, the lyrics of a Neil Young song float through the loungeroom, providing a perfect, brief soundtrack to Leah's life:
Hey hey, my my
Rock and roll can never die
There's more to the picture
Than meets the eye.
Hey hey, my my.
[box] You can download a pdf copy of Safe Country here.[/box]