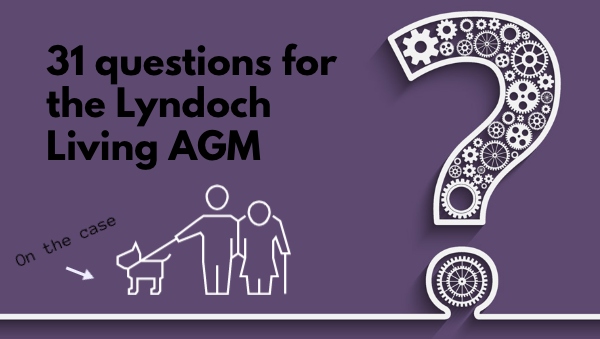 Carol Altmann – The Terrier
Below are 31 questions that have been sent today on behalf of members of the community to Lyndoch Living chair Sue Cassidy for next week's Annual General Meeting (Dec 14).
Only members of Lyndoch Living are legally entitled to ask questions at the meeting, but – as we know – more than 115 people have been denied membership these past 18 months.
We are shut out of any legal obligations.
My argument, however, is Lyndoch has a moral obligation to answer questions posed by the community.
After all, the Warrnambool community raised $20,000 toward the $80,000 purchase price of Lyndoch in the 1950s.
That $20,000 was essential to the Government providing a grant for the remaining $60,000.
Without that $20,000, there would be no Lyndoch Living, simple as that.
The community has since donated tens, if not hundreds, of thousands of dollars toward Lyndoch via donations, raffles, bequests and salary sacrifice.
As far as I'm concerned, the community and Lyndoch residents are the "shareholders" of Lyndoch Living Limited, and shareholders get to ask questions at the AGM about the company, and its management.
So here are 31 questions, distilled from the more than 50 that were offered by you. We shall see if any answers are forthcoming. Thankyou for being a part of this campaign to return Lyndoch to the community it serves.
1. Why is Lyndoch Living not accepting any new members from the community?
2. Who are the current members of Lyndoch Living?
3. What criteria are used to select member applicants?
4. Why are there no copies of previous annual reports on the Lyndoch Living website?
5. Why is Lyndoch Living no longer advertising board vacancies and how are potential board members identified and selected?
6. Why does Lyndoch Living currently have only seven board members and not nine as required by its Constitution?
7. What steps have been taken to reach the accreditation standards required by February 2022 and to also address the 19 areas of non-compliance at May Noonan Hostel?
8. Is the $22 million primary health care centre (PHCC) fully tenanted in preparation for its opening in 2022?
9. What is the contingency plan if the PHCC is not fully tenanted?
10. Has the cost of the $22 million PHCC been impacted by Covid-19 due to increased costs in construction and materials? When is the building expected to achieve profitability?
11. If a new medical clinic opens at the premises of the former Warrnambool Medical Clinic (as reported by local media), how will this affect the capacity of the PHCC to attract new GPs and retain its existing GPs?
12. Will Lyndoch Living release the Business Case underpinning the Board's decision to approve the construction of the PHCC?
13. What are the underlying assumptions which gave the Board the confidence to go ahead with an investment of $22m and the assurance that this project will result in a viable, sustainable and successful clinic, which poses no risk to Lyndoch's ongoing financial position – especially its cash flow and solvency – and ability to prioritise its purpose to provide quality care for the region's elderly citizens?
14. Will the directors of the Warrnambool Medical Clinic by Lyndoch Living be paid once the clinic is operational from the new premises?
15. Does the Lyndoch Living CEO receive performance bonuses as part of the employment contract approved by the board?
16. What is the current debt of Lyndoch and its strategy for repayment?
17. Can the board identify, separately, how much was spent on consultancies in 2020-21 and how much was spent on legal fees? Was this expenditure signed off by the board?
18. Has Lyndoch budgeted in 2021-22 to repair the nurse call system and resident call bell system?
19. How many staff have left Lyndoch Living in the past 18 months and how much has this cost?
20. What is the strategy to retain experienced staff?
21. What feedback (staff surveys, exit interviews etc) has the board received regarding staff satisfaction at Lyndoch Living and what actions, if any, have been taken in response?
22. Does the Board receive monthly reports outlining all compliments and complaints received, and incidents (falls, wound care etc) and sentinel events which have occurred for the previous month, and does this report include action(s) which will be taken in response? What has been acted upon and lessons learned to ensure continuous improvement in quality of care, and ensure proper oversight and accountability of the Board?
23. What measures are being taken to seek feedback from residents and their representatives, and what is being done to address issues raised by residents and their representatives?
24. Has the board reviewed Lyndoch's business partnerships and sponsorships and how are these performing in terms of quantifiable benefits to Lyndoch?
25. What is the financial position of Waterfront Living? Is it fully sold and covering its costs?
26. Has there been an increase or decrease in the number of Lyndoch Home Care Package clients in the last 12 months? How does Lyndoch set its fee structures for the packages?
27. How much has the sponsorship of the May Racing Carnival Grand National Steeplechase and Lyndoch corporate tent cost since the sponsorship began, which budget line does this money come from, and what have been the quantifiable benefits to Lyndoch?
28. Is Lyndoch Living currently meeting all of its payments to suppliers on time?
29. How are bequests to Lyndoch solicited and is the approach compliant with the Fundraising Institute of Australia, including charity codes?
30. Has the patient/staff member ratio been met? If not, what has been done to remain compliant?
31. How many falls and pressure wounds were recorded in the past 12 months and how does this compare to the previous 12 months?