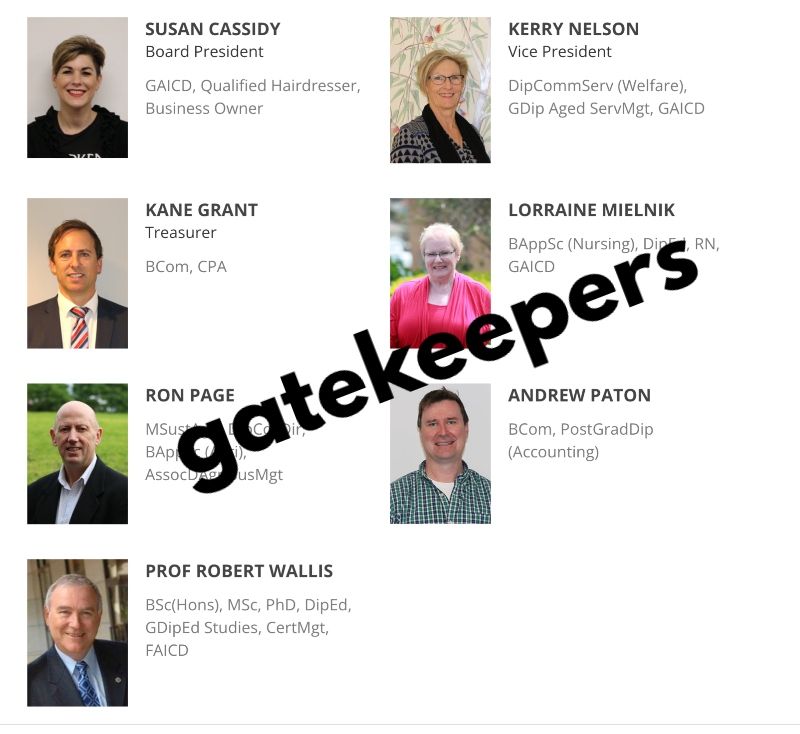 Carol Altmann – The Terrier
On Friday, I deposited all the $$$ we raised to mount a legal challenge against the Lyndoch Living board into a trust account. Now, we wait.
And while we wait for the barrister's opinion, let's remember why this legal challenge is even necessary.
It's necessary because, after seven decades of needing the community to survive, the seven remaining members of the Lyndoch board have decided to disconnect Lyndoch from the community, without consultation or explanation.
These seven people have become gatekeepers and, in my view, enablers.
They are not the only ones. There is a band of hand-selected enablers across Lyndoch now: carefully chosen for their willingness to oblige without question in return for…what? A salary? A promised career path? A certificate of appreciation?
Those who wouldn't oblige, or who spoke up, or challenged, or simply decided they had had enough, are either going ….or gone. There was actually a hit list of those Lyndoch wanted out. They are all gone.
And as I write this tonight, yet another clinical leader has left.
And as I write this, I come to the end of another week where the distressing messages just keep coming in about staff shortages, care workers covering for nurses, nurses being run ragged, staff working double-shifts, being exhausted, and almost spent.
I would normally show you a screenshot of the staff shortages, but now Lyndoch is so paranoid about who is "leaking to The Terrier" (aka, letting the truth out) that staff fear text messages from Lyndoch will contain clues to try and trace them.
Staff also know – even if they no longer work at Lyndoch – that Lyndoch is watching closely to see if they comment or like a Terrier post.
The intimidation doesn't end, it seems, even if you no longer work there.
So I will instead tell you that yesterday, 26th February, Lyndoch sent out a text saying it was, once again, "desperately in need of staff" in the dementia (Audrey Prider) and high care (Lake Lodge) wings.
In Audrey Prider, the high-care dementia wing, the shortages included four staff on two shifts, from 7am to 3.30pm and from 1.30pm til 10pm.
Audrey Prider has 45 beds and, during the day, should typically have nine staff: 1 Registered Nurse, 6 enrolled nurses and 2 care workers.
If you remove four staff from that equation, resident care suffers. Many, I am told, have to spend the day in bed as there is just not enough staff to go around.
And yet amid all of this desperation and exhaustion, we hear nothing from Lyndoch and nothing from the board.
So this, this is just one of the reasons that we are fighting back for our voice to be heard at the table. Not as board members, but as general members – from the community – who are prepared to stand up for our elderly and those who care for them.
I know for a fact the staff are reading these posts. We are here for you. We are fighting for you. And we are not giving up. #pressingon